14 Years of Collaborative History Come to a Head In deadmau5 and Kaskade's Debut Kx5 Album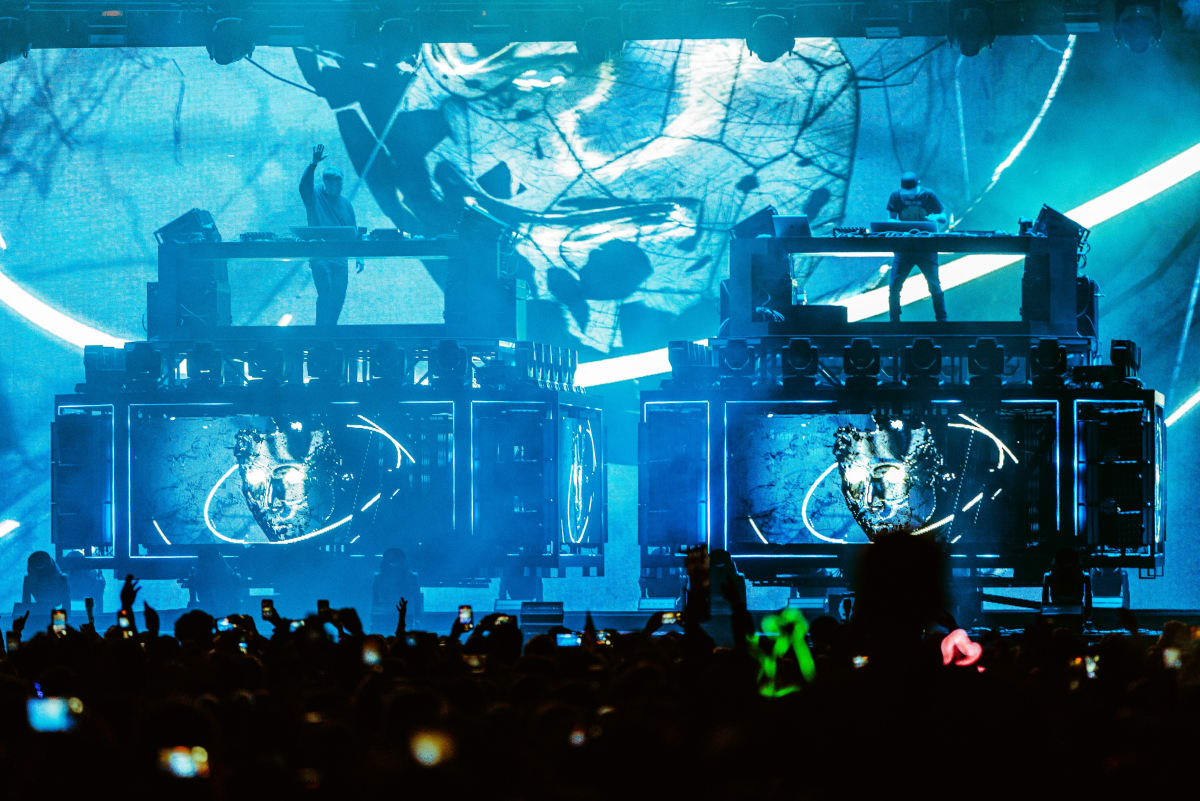 Kaskade and deadmau5 didn't simply opt to ride the coattails of nostalgia with their debut album, and the electronic music scene at large is better for it.
When Kaskade and deadmau5 first dropped "I Remember" 14 years ago, there's few who could have imagined the longtime collaborative duo would be presently chasing new heights.
In the years since that seminal offering, fans received the occasional new deadmau5 and Kaskade follow up with "Move For Me" and "Beneath With Me," both of which continue to be cherished fondly by dance music fans.
With successful standalone solo careers in their own right, the two could have easily left it at that, but the pioneering talents weren't simply keen on letting the dust settle. 
Fast-forward to 2022, whe the powerhouse producers revealed their intentions to forge a new chapter as Kx5. The announcement was immediately met with a generational wave of fanfare and excitement that carried the duo to their first Top 40 hit in "Escape," and a record-breaking single-day performance for any electronic music artist in North America.
As the crescendo of accolades have continued to roll in, the anticipation of the duo's debut self-titled LP has weighed increasingly heavy with 14 years of anticipation. With Kx5 now out in full, fans are likely to find that the album marks a logical new chapter in the duo's saga without merely riding the coattails of pure nostalgia.
The broader dance music fandom has always been enamored with the blissful bounce this melodically savvy duo has consistently formulated in the studio, and such moments are plentiful on Kx5, including but certainly not limited to tracks like the euphoric "Take Me High" and the breezy "Pwdr Blu." 
However, Kx5 also breaks new ground in deadmau5 and Kaskade's storied history by bringing a variety of new tonal dimensions to the table. With moody, melancholic singles like "Avalanche" and the forlorn atmosphere of "When I Talk," they bring heavier stakes into their songwriting without compromising on the uninterrupted danceability fans have come to know and love.
It's a fine line that's walked flawlessly throughout, leaving us with the lingering feeling that multiple cuts from Kx5 will be appreciated on the level of timeless tracks like "I Remember" due to an increasingly broader scope of underlying reasons.
Despite their history, and the resulting memories which live on in the hearts and minds of dance music's most tenured fans, there's an emerging feeling that this duo's full collaborative potential is only just being uncovered.
Follow Kx5:
Facebook: facebook.com/kx5official
Instagram: instagram.com/kx5official
Twitter: twitter.com/kx5official
Spotify: spoti.fi/3LdKBZl