A Complete Guide to Miami Music Week 2023: Clubs, Pool Parties, Showcases and More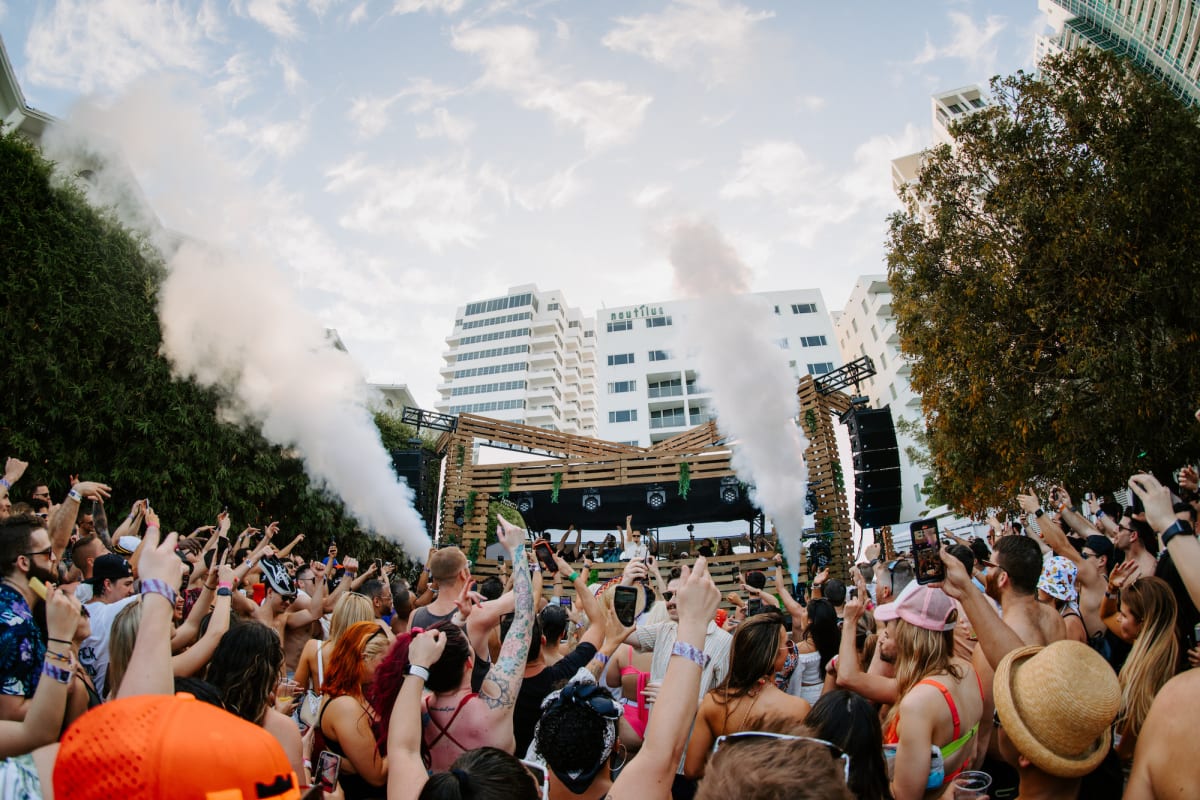 Discover all the pool parties, club nights, showcases and more heading to Miami Music Week in 2023.
Editor's Note: The list contained in this article will be updated as more events are announced. If you'd like to request an addition, correction or update to an event, reach out to this email address.
---
They say Miami is a place where you go to escape. But when was the last time you went there and actually changed your life?
For countless electronic music enthusiasts, that's a feeling they experience when they step foot on their long flight home after Miami Music Week. For practically an entire week, Magic City erupts into a down-and-dirty dance music utopia.
And neighbors be damned, it's back.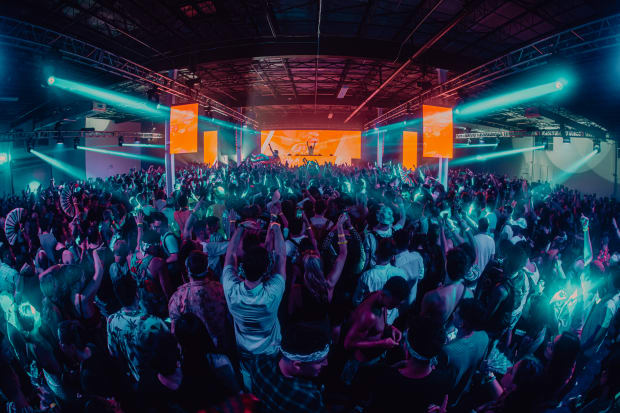 Last year's hedonistic MMW was the first since live music's safe return in the wake of the pandemic, so fans descended on the city for hours and hours of uncaged partying. Ipso facto, you'd think 2023 would naturally see some regression.
But if this year's slate of events is any indication, that is so, so far from the truth. This year's gathering has the feel of something special.
Ahead of Miami Music Week 2023, EDM.com has created a guide with an exhaustive list of club nights, pool parties, record label showcases and more so you can keep a pulse on the pandemonium.
---
Tuesday, March 21st
EDM.com presents: Insider Access Global Networking Event
Location: Selina Miami Gold Dust - 7700 Biscayne Blvd, Miami, FL 33138
Time: 12pm
Artists: TBA
Tickets
RÜFÜS DU SOL presents Rose Avenue Records Showcase
Location: Club Space - 34 NE 11th St, Miami, FL 33132
Time: 11pm
Artists: RÜFÜS DU SOL, Cassian, Jonas Rathsman, More
Tickets
Groove Cruise & Doc Brown Present Unlearn:Records Showcase
Location: Kill Your Idol - 222 Española Way, Miami Beach, FL 33139
Time: 8pm
Artists: Doc Brown, 22 Weeks, DJ Dove, More
Tickets
SET's Miami Yacht Experience
Location: South Beach Lady Yacht (Hyatt Regency Dock) - 400 SE 2nd Ave, Miami, FL 33131
Time: 5pm
Artists: Hernan Cattaneo, Nick Warren
Tickets
Sigala Land
Location: Hyde Beach - 1701 Collins Ave, Miami Beach, FL 33139
Time: 6pm
Artists: Sigala, EDX, Regard, Ship Wrek, More
Tickets
PIV Showcase MMW Kickoff
Location: Floyd Miami - 34 NE 11th St, Miami, FL 33132
Time: 11pm
Artists: Jaden Thompson, Ms. Mada, Sidney Charles, More
Tickets
---
Wednesday, March 22nd
Spinnin' Sessions Pool Party
Location: Nautilus Hotel - 1825 Collins Ave, Miami Beach, FL 33139
Time: 12pm
Artists: Alan Walker, ACRAZE, Dubdogz, KREAM, More
Tickets
Cafe Mambo Ibiza: Miami Takeover Pool Party
Location: Kimpton Surfcomber Hotel - 1717 Collins Ave, Miami Beach, FL 33139
Time: 12pm
Artists: TBA
Tickets
Afterlife: Miami Music Week
Location: Factory Town - 4800 NW 37th Ave, Miami, FL 33142
Time: 7pm
Artists: TBA
Tickets
bitbird Miami Showcase
Location: FREEHOLD Miami - 2219 NW 2nd Ave, Miami, FL 33127
Time: 9pm
Artists: San Holo, Tisoki, Pauline Herr, OddKidOut, helloworld
Tickets
ANTS Miami
Location: Oasis Wynwood - 2335 N Miami Ave, Miami, FL 33127
Time: 7pm
Artists: Cloonee, HUGEL, Solardo, More
Tickets
Seth Troxler & HoneyLuv: Black Brother Black Sister
Location: Floyd Miami - 34 NE 11th St, Miami, FL 33132
Time: 11pm
Artists: Seth Troxler, HoneyLuv
Tickets
Epic Pool Parties Day 1
Location: Sagamore Hotel - 1671 Collins Ave, Miami Beach, FL 33139
Time: 1pm
Artists: ACRAZE, LP Giobbi, Mau P, Dombresky, More
Tickets
HARD Miiiami
Location: The Ground Miami - 34 NE 11th St, Miami, FL 33132, USA
Time: 11pm
Artists: Skream, INVT, Mall Grab, More
Tickets
Claptone: The Masquerade
Location: Hyde Beach - 1701 Collins Ave, Miami Beach, FL 33139
Time: 12pm
Artists: Claptone, More
Tickets
Insomniac Records Presents: Night Trip
Location: Centro Wynwood - 297 NW 23rd St, Miami, FL 33127
Time: 9pm
Artists: Dombresky, HUGEL, Joshwa, Anabel Englund, More
Tickets
Higher Ground at Miami Music Week
Location: Toejam Backlot - 150 NW 21st St, Miami, FL 33127
Time: 9pm
Artists: Diplo, Idris Elba, DJ Tennis, Carlita, More
Tickets
Aliens on Mushrooms presents Aliens Invade Uranus
Location: Savage Labs Wynwood - 2451 NW 5 Ave, Miami, FL 33127
Time: 9pm
Artists: Harry Romero, Junior Sanchez, Gettoblaster, More
Tickets
DESCEND Miami Music Week Pool Party
Location: National Hotel - 1677 Collins Ave, Miami Beach, FL 33139
Time: 12pm
Artists: Indira Paganotto, Pan-Pot, XENAA, More
Tickets
Jackies Miami Music Week
Location: Treehouse - 323 23rd St, Miami Beach, FL 33139
Time: 4pm
Artists: DJ Sneak, Todd Terry, Wally Lopez, More
Tickets
Twisted Funk Miami Music Week Label Showcase
Location: 9beach Latin Restaurant & Bar - 1628 Collins Ave, Miami Beach, FL 33139
Time: 5pm
Artists: Plastik Funk, Leandro Da Silva, Harry Romero, More
Tickets
Un_Mute presents Sunrise Miami 2023
Location: TBA
Time: 11pm
Artists: Seth Troxler, Bill Patrick, Danny Daze, tINI, More
Tickets
Incorrect Showcase Miami Music Week
Location: La Otra at MAD Wynwood - 55 NE 24th St, Miami, FL 33137
Time: 10pm
Artists: Roger Sanchez, Gene Farris, Dillon Nathaniel, Max Styler, More
Tickets
Zack Martino & Friends
Location: Clevelander South Beach Hotel - 1020 Ocean Dr, Miami Beach, FL 33139
Time: 8pm
Artists: Zack Martino, More
Tickets
ARC AT SEA: Land of Sunshine Yacht Cruise
Location: The Musette - 300 Alton Rd, Miami Beach, FL 33139
Time: 7pm
Artists: Miss Monique, Airrica
Tickets
Stefano Noferini Presents Deeperfect MMW
Location: Treehouse - 323 23rd St, Miami Beach, FL 33139
Time: 4pm
Artists: Stefano Noferini, More
Tickets
Sudbeat Showcase MMW
Location: Sky Yard - 723 Lincoln Ln N, Miami Beach, FL 33139
Time: 4pm
Artists: Hernan Cattaneo, Graziano Raffa, John Cosani, Simply City
Tickets
DTLA x New Life Sounds x EDM Maniac "THICC BEATS POOL PARTY IN MIAMI"
Location: Clevelander South Beach Hotel - 1020 Ocean Dr, Miami Beach, FL 33139
Time: 12pm
Artists: Casmalia, Lady Verse, Redux Saints, More
Free Admission
Soundtuary Miami Music Week
Location: Jungle Island - 1111 Parrot Jungle Trail, Miami, FL 33132
Time: 6pm
Artists: Lee Burridge, Apache, Maz, Deroos
Tickets
M2 Presents: MORTEN + Gattüso
Location: M2 Miami - 1235 Washington Ave, Miami Beach, Florida 33139
Time: 10pm
Artists: MORTEN, Gattüso, Pietro
Tickets
HoTL MMW 2023
Location: The Dirty Rabbit - 151 NW 24th St #107, Miami, FL 33127
Time: 8pm
Artists: Joeski, Technasia, David Tort, Markem, More
Tickets
---
Thursday, March 23rd
Loud Luxury One Day Only Pool Party
Location: Kimpton Surfcomber Hotel - 1717 Collins Ave, Miami Beach, FL 33139
Time: 12pm
Artists: Autograf, Wuki, BIJOU, Cheyenne Giles, More
Tickets
Heldeep Pool Party
Location: Nautilus Hotel - 1825 Collins Ave, Miami Beach, FL 33139
Time: 12pm
Artists: Anabel Englund, Kaleena Zanders, The Magician, warner case, More
Tickets
RESISTANCE Miami: Drumcode Takeover
Location: M2 Miami - 1235 Washington Ave, Miami Beach, Florida 33139
Time: TBD
Artists: Adam Beyer, More
Tickets
Brownies & Lemonade Miami 2023
Location: Mana Wynwood - 318 NW 23rd St, Miami, FL 33127
Time: 9pm
Artists: Madeon, TroyBoi, Deathpact, Moore Kismet, More
Tickets
Heartfeldt Pool Party
Location: SLS Brickell - 1300 S Miami Ave, Miami, FL 33130
Time: 12pm
Artists: Sam Feldt, Bonnie X Clyde, Thomas Jack, Icona Pop, More
Tickets
Confession Miami
Location: Oasis Wynwood - 2335 N Miami Ave, Miami, FL 33127
Time: 9pm
Artists: Curbi, BIJOU, Nostalgix, Damaged Goods, More
Tickets
Black Coffee @ LIV
Location: LIV - 4441 Collins Ave, Miami Beach, FL 33140
Time: 11pm
Artists: Black Coffee, More
Tickets
CamelPhat Presents: Dark Matter Miami Pool Party
Location: National Hotel - 1677 Collins Ave, Miami Beach, FL 33139
Time: 12pm
Artists: CamelPhat, Anfisa Letyago, Patrick Topping, Franky Wah, More
Tickets
elrow: Miami Music Week Edition 2023
Location: Factory Town - 4800 NW 37th Ave, Miami, FL 33142
Time: 6pm
Artists: Chris Lake, MK, Sonny Fodera, Lee Foss, LP Giobbi, More
Tickets
ARC AT SEA: House of Wax Yacht Cruise
Location: The Musette - 300 Alton Rd, Miami Beach, FL 33139
Time: 7pm
Artists: Wax Motif, Odd Mob, Max Styler
Tickets
Epic Pool Parties Day 2: Defected
Location: Sagamore Hotel - 1671 Collins Ave, Miami Beach, FL 33139
Time: 1pm
Artists: Idris Elba, Hannah Wants, Ferreck Dawn,LP Giobbi, More
Tickets
Eprom + brothel. B2B barnacle boi + CURRA
Location: The Ground Miami - 34 NE 11th St, Miami, FL 33132, USA
Time: 11pm
Artists: Eprom, brothel., barnacle boi, Curra
Tickets
Music On: Miami Music Week 2023
Location: Factory Town - 4800 NW 37th Ave, Miami, FL 33142
Time: 6pm
Artists: Marco Carola, Paco Osuna, Bedouin, Nic Fanciulli, More
Tickets
Noizu & CID: Techne vs. Night Service Only
Location: Pilo's Tequila Garden Wynwood - 158 NW 24th St, Miami, FL 33127
Time: 6pm
Artists: Noizu, CID
Tickets
Addiction by Vintage Culture
Location: Hyde Beach - 1701 Collins Ave, Miami Beach, FL 33139
Time: 12pm
Artists: Vintage Culture, Joseph Capriati, Solardo, More
Tickets
4B & Friends
Location: Centro Wynwood - 297 NW 23rd St, Miami, FL 33127
Time: 9pm
Artists: 4B, Good Times Ahead, Tisoki, Ship Wrek, More
Tickets
When Stars Align Miami Music Week Pool Party
Location: National Hotel - 1677 Collins Ave, Miami Beach, FL 33139
Time: 12pm
Artists: CamelPhat, More
Tickets
Cristoph x Spencer Brown
Location: Sky Yard - 723 Lincoln Ln N, Miami Beach, FL 33139
Time: 4pm
Artists: Cristoph, Spencer Brown, Eelke Kleijn, Von Garden
Tickets
Cosmic Gate Miami Music Week
Location: La Otra at MAD Wynwood - 55 NE 24th St, Miami, FL 33137
Time: 10pm
Artists: Cosmic Gate, Luccio
Tickets
We Are Friends: mau5trap // Hau5trap MMW 2023
Location: Toejam Backlot - 150 NW 21st St, Miami, FL 33127
Time: 8pm
Artists: 5pecial gue5t, Volaris, OddKidOut, DJ Susan, Wenzday, More
Tickets
Future House Music: Rooftop Special
Location: Kimpton Angler's Hotel - 660 Washington Ave, Miami Beach, FL 33139
Time: 1pm
Artists: Brooks, Dubdogz, DLMT, Marc Benjamin, Plastik Funk
Tickets
Diplo @ E11EVEN
Location: E11EVEN - 29 NE 11th St, Miami, FL 33132
Time: 7pm
Artists: Diplo, More
Tickets
Fisher B2B Paco Osuna & Mason Collective
Location: Club Space - 34 NE 11th St, Miami, FL 33132
Time: 11pm
Artists: Fisher, Paco Osuna, Rossi, Mason Collective, Thunderpony
Tickets
Stereo Productions MMW by Speaker Box
Location: Treehouse - 323 23rd St, Miami Beach, FL 33139
Time: 11pm
Artists: DJ Chus, Steve Lawler, Joeski, Oscar L, More
Tickets
Un_Mute presents Sunrise Miami 2023
Location: TBA
Time: 11pm
Artists: Seth Troxler, Bill Patrick, Danny Daze, tINI, More
Tickets
Piknic Électronik Miami Music Week
Location: Jungle Island - 1111 Parrot Jungle Trail, Miami, FL 3313
Time: 6pm
Artists: Hernan Catteneo, Deer Jade, Elif, More
Tickets
Groove Cruise Artist Showcase
Location: Jungle Island - 1111 Parrot Jungle Trail, Miami, FL 3313
Time: 8pm
Artists: Gene Farris, Anthony Attalla, Maxinne, More
Tickets
Robin Schulz @ Strawberry Moon
Location: Strawberry Moon - 601 Washington Ave, Miami Beach, FL 33139
Time: 12pm
Artists: Robin Schulz, More
Tickets
Burmuda Miami Music Week Boat Party
Location: Sea Isle Marina & Yachting Center - 1635 N Bayshore Dr, Miami, FL 33132
Time: 5pm
Artists: TBA
Tickets
Francis Mercier & W Hotels Present: Deep Root Tribe
Location: W South Beach - 2201 Collins Ave Miami Beach, FL 33139
Time: 3pm
Artists: &Friends, Bontan, Francis Mercier b2b Special Guest, More
Tickets
Deep Tropics Miami Music Week
Location: 1-800-Lucky - 143 NW 23rd St, Miami, FL, 33127
Time: 5pm
Artists: TBA
Tickets
---
Friday, March 24th
Ultra Music Festival
Location: 301 Biscayne Blvd, Miami, FL 33132
Time: 4pm
Artists: Eric Prydz, Carl Cox, Rezz, Hardwell, Charlotte de Witte, David Guetta, More
Tickets
Zamna Miami
Location: Island Gardens - 888 MacArthur Causeway, Miami, FL 33132, USA
Time: 8PM
Artists: Green Velvet, GORDO, Eran Hersh, More
Tickets
All Gone Pete Tong Pool Party
Location: Kimpton Surfcomber Hotel - 1717 Collins Ave, Miami Beach, FL 33139
Time: 12pm
Artists: Pete Tong, Idris Elba, Damian Lazarus, Seth Troxler, More
Tickets
Chris Lake: Black Book Miami
Location: Oasis Wynwood - 2335 N Miami Ave, Miami, FL 33127
Time: 9pm
Artists: Chris Lake, HoneyLuv, Harry Romero, Sosa, More
Tickets
RESISTANCE Miami: Sasha _ John Digweed
Location: M2 Miami - 1235 Washington Ave, Miami Beach, Florida 33139
Time: TBA
Artists: Sasha, John Digweed, More
Tickets
ARC AT SEA: Femme House Yacht Cruise
Location: The Musette - 300 Alton Rd, Miami Beach, FL 33139
Time: 7pm
Artists: LP Giobbi, HVNLEE
Tickets
Cloonee Presents: Hellbent
Location: Floyd Miami - 34 NE 11th St, Miami, FL 33132
Time: 11pm
Artists: Cloonee, More
Tickets
Cosmic Gate Sunset Cruise
Location: South Beach Lady Yacht (Hyatt Regency Dock) - 400 SE 2nd Ave, Miami, FL 33131
Time: 3pm
Artists: Cosmic Gate, Luccio
Tickets
Dim Mak Miami 2023
Location: MAPS Backlot - 342 NW 24th St, Miami, FL 33127
Time: 9PM
Artists: CID, Matroda, Born Dirty, Hannah Wants, More
Tickets
Insomniac Records x D4 D4nce Pool Party
Location: Nautilus Hotel - 1825 Collins Ave, Miami Beach, FL 33139
Time: 12pm
Artists: Alan Walker, ACRAZE, Dubdogz, KREAM, More
Tickets
BLNK CNVS Presents: XXX - From Amsterdam To Miami
Location: FREEHOLD Miami - 2219 NW 2nd Ave, Miami, FL 33127
Time: 9pm
Artists: Mau P, More
Tickets
Deadbeats Vs. Cyclops
Location: Mana Wynwood - 318 NW 23rd St, Miami, FL 33127
Time: 9:30pm
Artists: Zeds Dead, Chee, Versa, NotLö, More
Tickets
Epic Pool Parties Day 3: The Soundgarden
Location: Sagamore Hotel - 1671 Collins Ave, Miami Beach, FL 33139
Time: 1pm
Artists: Totally Enormous Extinct Dinosaurs, Francesca Lombardo, Nick Warren, More
Tickets
Black Coffee & Friends
Location: Factory Town - 4800 NW 37th Ave, Miami, FL 33142
Time: 7pm
Artists: Black Coffee, WhoMadeWho, ANOTR, More
Tickets
Guy Gerber Presents Rumors Miami
Location: Hyde Beach - 1701 Collins Ave, Miami Beach, FL 33139
Time: 12pm
Artists: Guy Gerber, More
Tickets
Paradise Miami
Location: Factory Town - 4800 NW 37th Ave, Miami, FL 33142
Time: 7pm
Artists: Jamie Jones, Joesph Capriati, AMÉMÉ, Layla Benitez, Loco Dice, More
Tickets
MK Presents Miami Music Week Pool Party
Location: National Hotel - 1677 Collins Ave, Miami Beach, FL 33139
Time: 12pm
Artists: MK, More
Tickets
Un_Mute presents Sunrise Miami 2023
Location: TBA
Time: 11pm
Artists: Seth Troxler, Bill Patrick, Danny Daze, tINI, More
Tickets
Kristina Sky presents United We Groove Miami 2023
Location: The Clevelander (C-Level Rooftop Terrace) - 1020 Ocean Drive 6th Floor, Miami, FL 33139
Time: 1pm
Artists: Kristina Sky, Fatum, Roger Shah, More
Tickets
Ferry Corsten @ MAD (La Otra)
Location: La Otra at MAD Wynwood - 55 NE 24th St, Miami, FL 33137
Time: 10pm
Artists: Ferry Corsten, Luccio
Tickets
Colorize & Friends @ Sky Yard
Location: Sky Yard - 723 Lincoln Ln N, Miami Beach, FL 33139
Time: 4pm
Artists: Estiva, Matt Fax, Lipless, Jody Wisternoff, More
Tickets
Luciano @ Strawberry Moon
Location: Strawberry Moon - 601 Washington Ave, Miami Beach, FL 33139
Time: 12pm
Artists: Luciano, More
Tickets
Nils Hoffmann, CRi, & Durante @ Mad Club
Location: MAD Club Wynwood - 55 NE 24th St, Miami, FL 33137
Time: 10PM
Artists: Nils Hoffmann, CRi, Durante
Tickets
---
Saturday, March 25th
Ultra Music Festival
Location: 301 Biscayne Blvd, Miami, FL 33132
Time: 4pm
Artists: Eric Prydz, Carl Cox, Rezz, Hardwell, Charlotte de Witte, David Guetta, More
Tickets
Get Lost Miami
Location: Factory Town - 4800 NW 37th Ave, Miami, FL 33142
Time: 12pm
Artists: Danny Tenaglia, A-Trak, AMÉMÉ, Skream, Ida Engberg, Soul Clap, More
Tickets
Zamna Miami
Location: Island Gardens - 888 MacArthur Causeway, Miami, FL 33132, USA
Time: 8PM
Artists: ARTBAT,  Paul Kalkbrenner, Agents of Time, More
Tickets
Fisher's Catch & Release Pool Party
Location: Kimpton Surfcomber Hotel - 1717 Collins Ave, Miami Beach, FL 33139
Time: 12pm
Artists: Fisher, Dennis Ferrer, Sosa, More
Tickets
Green Velvet presents LaLaLand Pool Party
Location: Nautilus Hotel - 1825 Collins Ave, Miami Beach, FL 33139
Time: 12pm
Artists: Green Velvet, Eats Everything, John Summit, Rebūke, Shermanology, More
Tickets
RESISTANCE Miami
Location: M2 Miami - 1235 Washington Ave, Miami Beach, Florida 33139
Time: TBA
Artists: TBA
Tickets
NITTI & Friends
Location: FREEHOLD Miami - 2219 NW 2nd Ave, Miami, FL 33127
Time: 9pm
Artists: NITTI, More
Tickets
Anjunadeep Open Air
Location: MAPS Backlot - 342 NW 24th St, Miami, FL 33127
Time: 5pm
Artists: Eli & Fur, Jody Wisternoff, Lutrell, Marsh, More
Tickets
Epic Pool Parties Day 4: Seth Troxler b2b Danny Tenaglia
Location: Sagamore Hotel - 1671 Collins Ave, Miami Beach, FL 33139
Time: 1pm
Artists: Seth Troxler, Danny Tenaglia, Victor Calderone, More
Tickets
Miami Music Week 2023: MEDUZA
Location: Hyde Beach - 1701 Collins Ave, Miami Beach, FL 33139
Time: 12pm
Artists: MEDUZA, Idris Elba, Eli & Fur, Armand van Helden, More
Tickets
Oscar G Made in Miami Pool Party
Location: SLS Brickell - 1300 S Miami Ave, Miami, FL 33130
Time: 12pm
Artists: Oscar G, Chus, Gettoblaster, More
Tickets
Sonny Fodera Presents SOLOTOKO MMW Pool Party
Location: National Hotel - 1677 Collins Ave, Miami Beach, FL 33139
Time: 12pm
Artists: Sonny Fodera, SIDEPIECE, Westend, Biscits, More
Tickets
ARC AT SEA: Dirty Disco Yacht Cruise
Location: The Musette - 300 Alton Rd, Miami Beach, FL 33139
Time: 7pm
Artists: DJ Seinfeld, Skream, Azzecca
Tickets
Altered States
Location: The Ground Miami - 34 NE 11th St, Miami, FL 33132, USA
Time: 11pm
Artists: Zeds Dead, Mary Droppinz, Noises, More
Tickets
Walker & Royce: Rules Don't Apply Takeover
Location: Floyd Miami - 34 NE 11th St, Miami, FL 33132
Time: 11pm
Artists: Walker & Royce, More
Tickets
Cuttin' Headz
Location: Club Space - 34 NE 11th St, Miami, FL 33132
Time: 11pm
Artists: Loco Dice, The Martinez Brothers, Derrick Carter, More
Tickets
Giuseppe Ottaviani "Horizons" @ Sky Yard
Location: Sky Yard - 723 Lincoln Ln N, Miami Beach, FL 33139
Time: 4pm
Artists: Giuseppe Ottaviani,  More
Tickets
Ultra Naté's Big Birthday Bash
Location: Copal Rooftop Bar - 50 NW 24th St, Miami, FL 33127
Time: 9pm
Artists: Ultra Naté, Tracy Young
Tickets
Solid Grooves @ Club Space Miami
Location: Club Space - 34 NE 11th St, Miami, FL 33132
Time: 11pm
Artists: TSHA, Michael Bibi, Dennis Cruz, Layla Benitez, More
Tickets
Claude VonStroke: Your DAD Plays Treehouse
Location: Treehouse - 323 23rd St, Miami Beach, FL 33139
Time: 10pm
Artists: Claude VonStroke
Tickets
---
Sunday, March 26th
Ultra Music Festival
Location: 301 Biscayne Blvd, Miami, FL 33132
Time: 4pm
Artists: Eric Prydz, Carl Cox, Rezz, Hardwell, Charlotte de Witte, David Guetta, More
Tickets
Toolroom Miami Music Week Closing Pool Party
Location: Nautilus Hotel - 1825 Collins Ave, Miami Beach, FL 33139
Time: 12pm
Artists: Mark Knight, Dombresky, Gene Farris, HUGEL, More
Tickets
Galantis Pool Party
Location: Kimpton Surfcomber Hotel - 1717 Collins Ave, Miami Beach, FL 33139
Time: 12pm
Artists: Galantis, Icona Pop, Laidback Luke, Regard, NIIKO X SWAE, More
Tickets
Anjunabeats Pool Party
Location: Nautilus Hotel - 1825 Collins Ave, Miami Beach, FL 33139
Time: 12pm
Artists: Andrew Bayer, ALPGA 9, Genix, Sunny Lax, More
Tickets
Epic Pool Parties Presents Glitterbox
Location: Sagamore Hotel - 1671 Collins Ave, Miami Beach, FL 33139
Time: 1pm
Artists: Eats Everything, Catz 'N Dogz, DJ Minx, More
Tickets
RESISTANCE Miami: Official MMW Closing Party
Location: M2 Miami - 1235 Washington Ave, Miami Beach, Florida 33139
Time: TBA
Artists: TBA
Tickets
MMW Closing Party Presented by Link Miami Rebels
Location: Club Space - 34 NE 11th St, Miami, FL 33132
Time: 11pm
Artists: TBA
Tickets
Brownies & Lemonade's DNBNL Miami - Worship & Friends
Location: The Ground Miami - 34 NE 11th St, Miami, FL 33132, USA
Time: 11pm
Artists: TBA
Tickets
Audien: Progressive House Never Died
Location: FREEHOLD Miami - 2219 NW 2nd Ave, Miami, FL 33127
Time: 9pm
Artists: Audien, DubVision, Codeko, More
Tickets
BLNK CNVS Presents: OUTRO CLOSING PARTY
Location: Mana Wynwood - 318 NW 23rd St, Miami, FL 33127
Time: 10pm
Artists: TBA
Tickets
Alan Walker @ Oasis
Location: Oasis Wynwood - 2335 N Miami Ave, Miami, FL 33127
Time: 9pm
Artists: TBA
Tickets
Thrive Music & Proximity Present: Miami Music Week 2023
Location: SLS South Beach Miami - 1701 Collins Ave, Miami Beach, FL 33139
Time: 12pm
Artists: James Hype, Duck Sauce, Night Tales, More
Tickets
Fisher @ E11EVEN
Location: E11EVEN - 29 NE 11th St, Miami, FL 33132
Time: 7pm
Artists: Fisher, More
Tickets
MMW Closing at Factory Town
Location: Factory Town - 4800 NW 37th Ave, Miami, FL 33142
Time: 7pm
Artists: John Summit, Lee Foss, Gorgon City, More
Tickets
Matroda & Friends Closing Party
Location: Floyd Miami - 34 NE 11th St, Miami, FL 33132
Time: 11pm
Artists: Matroda, More
Tickets
HE.SHE.THEY. Miami
Location: Toejam Backlot - 150 NW 21st St, Miami, FL 33127
Time: 6pm
Artists: Maya Jane Coles, Ellen Allien, Honeyluv, Chloé Caillet, More
Tickets
Sebastien Leger & Guy Mantzur @ Sky Yard
Location: Sky Yard - 723 Lincoln Ln N, Miami Beach, FL 33139
Time: 4pm
Artists: Sébastien Léger, Guy Mantzur, More
Tickets
Dosem, Marsh & Simon Doty at MAD (La Otra)
Location: La Otra at MAD Wynwood - 55 NE 24th St, Miami, FL 33137
Time: 10pm
Artists: Dosem, Marsh, Simon Doty
Tickets
Treehouse Presents Shyft MMW
Location: Treehouse - 323 23rd St, Miami Beach, FL 33139
Time: 4:09pm
Artists: Differ, Elio Riso, Sergio Saffe, More
Tickets
---