All Aboard Groove Cruise 2023: The 5 Craziest Things We Saw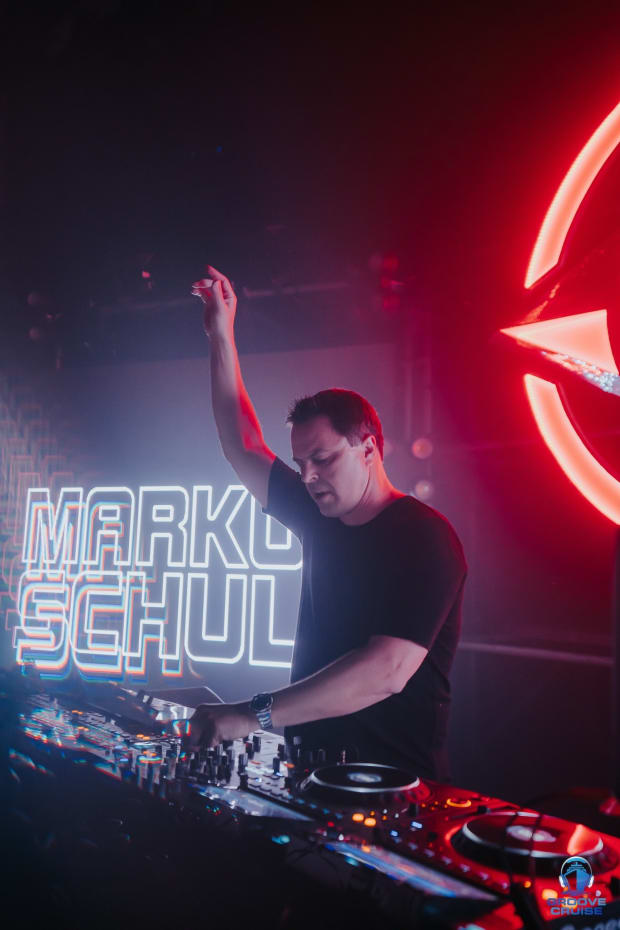 Onstage proposals and raining dollar bills were just two of the wild sights from Groove Cruise 2023, a floating festival for the books.
Whet Travel's flagship floating festival, Groove Cruise, returned to the seas for its 35th sail last weekend, gathering an astounding 2,500 ravers aboard the Celebrity Summit for four days of nonstop eating, sleeping, raving and repeating.
The once-in-a-lifetime festival experience featured nine stages across 12 floors, providing attendees—also known as "captains"—with a curated lineup of 96 hours of techno and house music from over 50 artists. The "floating magical rave camp" also featured 80 artist-hosted activities to raise money for the nonprofit Whet Foundation.
EDM.com was onboard Groove Cruise, where we saw seven different marriage proposals, breathtaking sunsets and sunrises, and an all-day adventure to a private Haitian peninsula, among many other sights and sounds.
Here are five of the craziest things we saw aboard Groove Cruise 2023.
A sparkly onstage proposal during Markus Schulz's six-hour DJ set in The Theatre.
Who better to perform a marathon DJ set the first night of Groove Cruise than Markus Schulz? Beloved for his signature open-to-close NYE sets, the prolific trance producer opened up the ship's mid-floor theatre on Thursday night with a stunning six-hour set that wrapped at 4am.
Schulz effortlessly cycled through his unique blend of trance and progressive house, winding up the energy in what became a rollicking three-tiered theatre. The theatre was filled with glittering hues and laser-reflecting bubbles that floated among the thousand or so fans raging in the crowd, including a woman who received a shiny engagement ring presented onstage by her beau.
The mind-blowing Martian Circus 5D experience in the Cellar Masters all weekend long.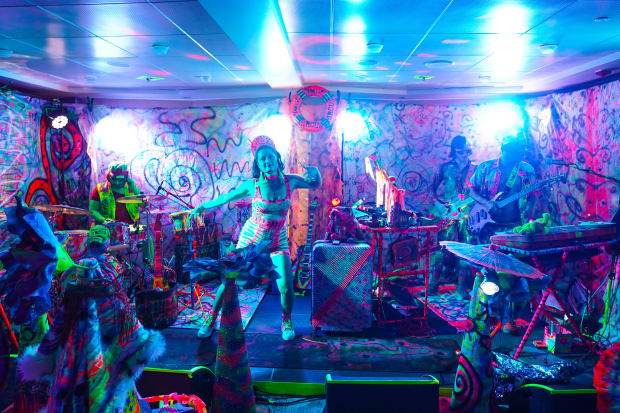 Martian Circus took us into the intergalactic depths of their minds through their nightly immersive 5D performances. Fronted by husband-and-wife duo Marz5d and Zara5d and featuring drummer Cameron Wisch and bassist David Amaya, the collective transformed the fifth floor Cellar Masters into a psychedelic den.
Blasting off at 11:11pm for three nights, the troupe led us through improvised sets of live instrumental electronic jams until 5am. Once aboard their spacecraft, it was hard to leave, especially after being given a pair of Martian Circus 5D glasses for a heightened visual experience. Random fans rapping and playing the trumpet onstage and a surprise group of multi-colored inflatable friends dancing throughout the crowd were just two surprises of this living, breathing circus, which was something straight out of the most imaginative psyche.
The group also leveled out each frenzied performance with a meditative sound healing experience from 5am to 7am to land safely back on 3D Earth. "We like to help people make contact with their inner being and bring out their extraordinary terrestrial nature," Marz5d told EDM.com.
Floating in the Caribbean Sea as Nora En Pure threw down on a private Haitian island.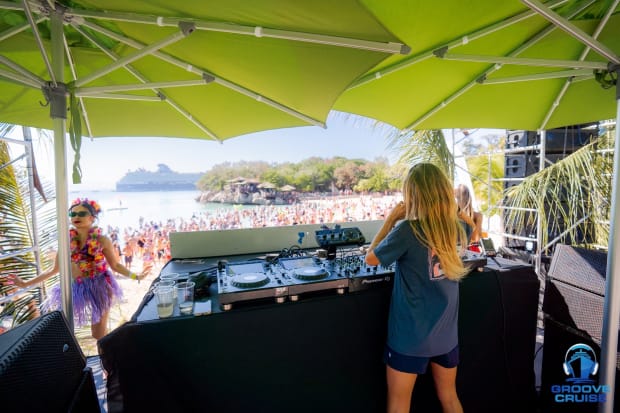 After sailing the Caribbean Sea for two days, we were greeted with a beautiful island oasis in Labadee on Saturday. For eight hours, 2,400 guests took over the private Haitian peninsula to get down to Nora En Pure's melodic house sounds under the sweet and salty Caribbean sunshine.
Having flown in directly to the island after playing a show in Miami the night prior, the Swiss-South African DJ played out her signature cinematic soundscapes, ethereal deep house rhythms and tropical sound design to the largest crowd on Labadee. The experience was surreal, as her organic production and enchanting melodies breezed through the air and rumbled through the ocean's waves, offering a breathtaking experience for anyone floating in the water.
Casmalia and Zof getting rained on with money in the Casino.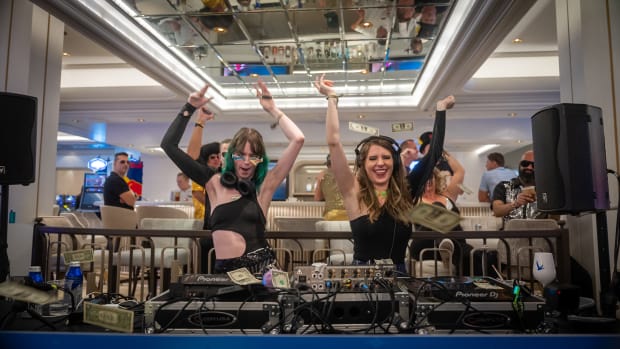 If you weren't in the Casino on Saturday night, you missed out on some big money vibes. Decked out in disco attire and teeming with Saturday Night Fever energy, Casmalia and Zof took the stage at 1am on the ship's fourth-floor gambling hub. While Casmalia had three separate DJ sets throughout the weekend, her B2B with Zof truly hit home for both new and diehard fans.
Although the two producers had interacted and collaborated virtually over the years, it would be the first time they came together in-person, resulting in a rare, magnetic collaborative performance. The two effortlessly flowed between heavy-hitting bass, funky techno and four-on-the-floor weapons as dollar bills filled the air, ending with the live debut of their forthcoming collab, "Right Thing," set to be released on Noizu's Techne Records in March.
"The Casino is my favorite place to play on the ship," Casmalia told EDM.com. "What happens in the casino, stays in the Casino. I have really found a family with Groove Cruise. It's really encouraging to have a team of people believing in you and your music and have an artist space that makes you feel comfortable, where you can call home. I want to be 90 years old ripping up the stage. Groove Cruise believes in my vision as an artist and I'm so thankful for that."
A huge onstage dance party during Jauz's "Off The Deep End" performance.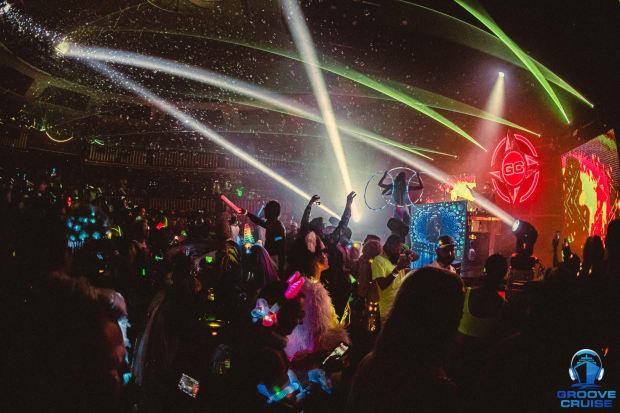 Staying true to his motto of "music has no boundaries," Jauz's "Off The Deep End" performance saw him summon the craziest crowd of the weekend, rippling with future garage, bass house and dark techno from midnight to 2am.
Less than five minutes into his performance, the stage swarmed with fans and Groove Cruise staff to dance alongside Jauz. "I came here to play some cool ass records and songs that I love," he proclaimed. "If you're backstage, you don't need to be backstage! I wanna have a motherf***in' house party, so get on the stage!"
And a house party it was. Jauz's performance closing out the theatre will go down in Groove Cruise history as one of the biggest DJ sets the event has ever seen. 
Honorable Mentions:
Nathan Bliss taking us back through the decades with some big remixes of punk and rock anthems in the Casino.
Over 2,000 ravers blasting music on the porting dock to get back onto the ship after partying all day on Labadee.
A proposal and birthday celebration as Autograf threw down on the Main Pool Deck.
Spirit Motel laying down beautiful live vocals alongside his live performance in the Casino. 
Paraleven shooting off some soaring synths into the depths of the ocean from the Main Pool Deck.
Groove Cruise will celebrate its 20th anniversary next year and will set sail from Miami to Great Stirrup Cay in the Bahamas from January 24-28. To celebrate the milestone, the 2024 festival will be hosted on the award-winning Norwegian Encore, the largest Groove Cruise ship to date. More information and tickets can be found here.
Check out a gallery of photos from this year's Groove Cruise below. 
FOLLOW GROOVE CRUISE:
Facebook: facebook.com/groovecruise
Instagram: instagram.com/groovecruise
Twitter: twitter.com/GrooveCruise
FOLLOW WHET TRAVEL:
Facebook: facebook.com/WhetTravel
Instagram: instagram.com/whettravel
Twitter: twitter.com/whettravel