ALPHA 9 Talks Long-Awaited Debut Album, a "Revived Project Rising Off the Ashes"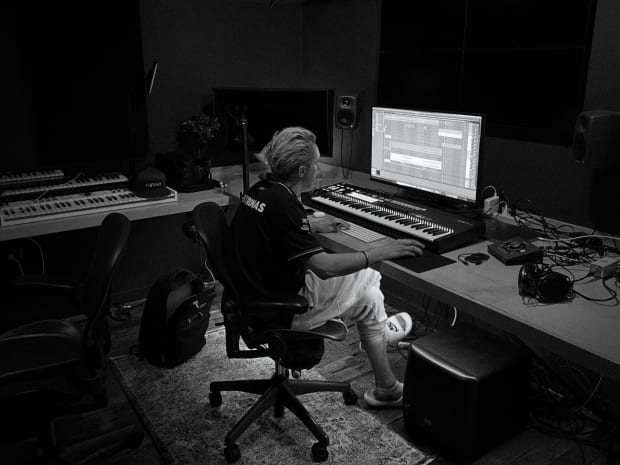 The record thoroughly embodies the progressive trance side of Arty's identity.
At its core, New Horizons is an affirmation that ALPHA 9's distinct take on progressive trance is resonating. The 14-track record plays out like a guided cosmic expedition revealing distinct aspects of the Russian producer's grasp of this part of his identity, one that sat dormant for years upon its reawakening in 2017.
Prior to reviving his ALPHA 9 moniker, Artem Stolyarov was exploring the progressive house genre to much success under his primary alias, Arty. However, shortly after the release of his debut studio album, Glorious, Stolyarov pivoted, ready to transition from uplifting melodies to a more raw and emotional soundscape. 
Single after single, the ALPHA 9 catalog evolved, eventually leading Stolyarov to the realization that the project he revived needed a home. And just as he did years prior as Arty, Stolyarov was ready to give ALPHA 9 a debut album over a decade since first launching the venture.
The culmination of a years-long undertaking, New Horizons encapsulates everything that ALPHA 9 is, has been and will be. The record leans heavily on space exploration references, as it showcases the development of ALPHA 9.
Prior to its release, the endeavor went through multiple iterations and left countless tracks on the chopping block. It is those changes—among other relentless efforts—that were at the heart of the conversation ALPHA 9 recently had with EDM.com. The progressive tastemaker shared the story of how his debut ALPHA 9 album finally saw the light of day.
EDM.com: You've been taking your fans on a journey with single after single of ALPHA 9 releases for years but you've never produced a stand-alone ALPHA 9 album up until now. What took you so long?
ALPHA 9: Since the very beginning of reviving the project back in 2017, I knew this was a project that needed to have its own body of work. But even though I knew it was eventually going to have an album, I had just finished my Arty album and a new album was the last thing I wanted to do. I remember being constantly exhausted and stressed out and it was a nightmare.
It was so much easier to just focus on the singles and do those. But then you get to a point where you want to put a body of work together and I hit the point where I knew I was ready to devote myself to an ALPHA 9 album.
The project was going to a place where it was essential to have a body of work and it was essential for me as a person, but this album was much tougher though.
EDM.com: What made it tough?
ALPHA 9: Myself [laughs]. It's always about you; I make things way more complicated. I shared with a lot of my fans that I had three iterations of the album. I was sitting on an enormous pile of finished tracks, like completely finished tracks… it was over 30 tracks but in fact, it's probably closer to 50 tracks.
EDM.com: How did you condense it from nearly 50 tracks to the final product?
ALPHA 9: Sweat. Tears. Tiredness. A lot of sleepless nights, like tons of sleepless nights. My perspective on the album changed at least two times.
EDM.com: Would you say that's a personality trait of yours, to make things more complicated?
ALPHA 9: Yeah, it is a personality trait but it was also a time element because the moment I started working on the album was the start of the pandemic. I was more into a deeper underground sound because I didn't really feel connected to the dance music scene that much since I wasn't performing. You don't have the real-time feedback of people going to your show, you know?
EDM.com: When did the project finally click for you? When did you finally realize the direction you were going towards?
ALPHA 9: Summer 2022.
EDM.com: So fairly recent?
ALPHA 9: Yeah, pretty recent but in the album's timeframe this is no time whatsoever. I had to change focus, I was not trying to swap the tracks but I was making completely different music that I wanted to be on the record and I was trying to make it cohesive as well.
EDM.com: I'm glad you touched on cohesion because each track on the record feels very connected. Is there a story you're trying to tell?
ALPHA 9: The album is called New Horizons because there's a lot of reference to space exploration. In the first track, I reference a lullaby, like when a baby lays down in a cradle and looks up at the stars and starts dreaming.
The next reference is based on the movie Back to the Future. If you remember the first movie, where Marty McFly is sleeping in the beginning…
EDM.com: I haven't seen Back to the Future.
ALPHA 9: How have you not seen Back to the Future? You're crazy. It's one of my favorite movies.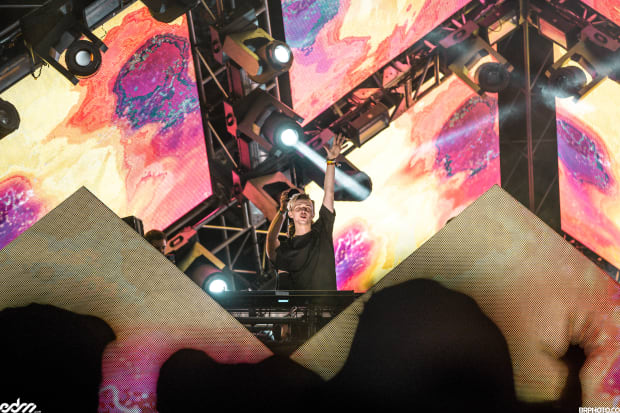 EDM.com: But I believe you. Does that song resonate with you or is there another song on the album that resounds with you more?
ALPHA 9: "Feels Like Home." It's one of my favorite tracks on the record for sure.
EDM.com: And why is that?
ALPHA 9: Because it has a very specific name. I'm not gonna go into details on why it's called that but it just feels right to me. It was a track that I came up with during the summer that I felt needed to be on the record. It just feels good and it feels right.
EDM.com: The album is being released via Anjunabeats. Why did you decide to publish it through them?
ALPHA 9: Because it's my home. It's been my home for over 13 years. We have so much history together and I've played an infinite amount of shows together with Above & Beyond and because of that, I have a lot of Anjunabeats fans.
Despite the fact that I had a moment in my career when I was working with Interscope, I am now only with Anjunabeats and Armada. I have two homes, you know? Anjunabeats is good for ALPHA 9 and Armada is good for Arty.
EDM.com: Speaking of Above & Beyond, you recently performed during their ABGT 500 celebration in Los Angeles. Was that a teaser of the direction you're going with this album?
ALPHA 9: Yeah, it was a massive teaser. The thing about that show is that there was only one track that people heard before, everything else was brand new. Fresh out of the oven. There was a lot of preparation going into that show and I did not know what the reaction would be.
EDM.com: So what was the overall reaction you received from that performance?
ALPHA 9: It was amazing. But it wasn't until the set went live on YouTube that I was really able to see what people were saying about it.
EDM.com: As an artist, you produce music under two aliases, Arty and ALPHA 9. Where do you feel more at home?
ALPHA 9: Listen, I've been feeling more at home with ALPHA 9 for quite some time because it's my baby. It's a revived project rising off the ashes that was in a graveyard for such a long time.
But it's inspired a lot of Arty music too and since I haven't worked on Arty I'm really stoked to see where Arty music goes in the future.
It's two projects with different types of music but it's one person behind it that is going through life and is inspiring both.
Follow ALPHA 9:
Facebook: facebook.com/alpha9official
Twitter: twitter.com/alpha9music
Instagram: instagram.com/alpha9music
Spotify: spoti.fi/3H01tRg