Why the Western United States Unite at SONIC BLOOM Festival

We're less than three weeks away from one of the West's most anticipated summer electronic music showcases, SONIC BLOOM.
As the name implies, the festival has cultivated a deep harvest of roots throughout the Western part of the United States, culminating in a diverse community of musical talent and fans. Ergo, SONIC BLOOM has long been regarded as a must-visit festival in Colorado and beyond, and perhaps now more so than ever as organizers gear up for their 16th edition this solstice weekend.
[embed]https://youtube.com/watch?v=ufvnrRmIGvE[/embed]
Over half of SONIC BLOOM's attendees come from the Western half of the United States, including New Mexico, Texas, California, Minnesota, Arizona, Montana and even Kansas.
While the festival has undergone several venue changes since its inception in 2006, it has called Hummingbird Ranch its home for nine years. Its convenient location in the southern heart of Colorado annually offers the ultimate festival experience for the true creative individual, bringing the likes of people from nearby New Mexico to the entire front range from Laramie, WY to Pueblo, CO.
Due to its location, SONIC BLOOM has naturally become an exploratory and immersive audiovisual event, boasting eclectic lineups featuring the next wave artists pushing the boundaries of contemporary music. Each year, thousands unite to discover and dance to the rhythms of electronic, bluegrass, jam and funk, and this year is no exception. The 2023 fest will treat attendees with a full-day takeover on the Meadow Stage with sets by headliner CloZee and genre-spanning performances by Lotus, Dirtwire, SunSquabi, Alix Perez, Maddy O'Neal, INZO, Rome In Silver, Nala, A Hundred Drums and dozens more.
In addition to the music, SONIC BLOOM also echoes a diverse and forward-thinking ethos throughout its various workshops and immersive experiences. While camping alongside alpine mountains and a creek, attendees can revitalize their bodies and minds with yoga workshops in the Quadraphonic Funktion-One Yoga D'Om, engage in over 100 conversations and workshops with a panel of speakers touching on science and sustainability, and immerse in the fields of creative expression in the onsite art gallery.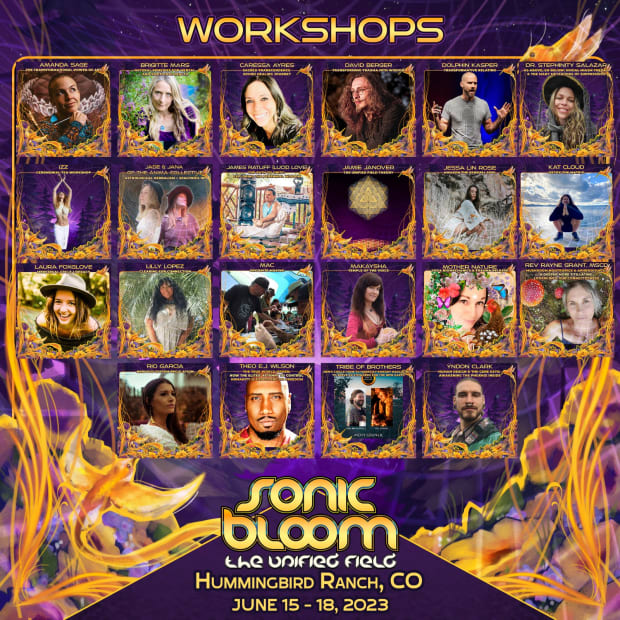 Knowing that no global community gathering is complete without the welcoming addition of families, SONIC BLOOM continues to cater to all ages, allowing children 12 and under free admission. Its onsite Rainbow Lightning Youth Village transforms into a safe space for families and children and offers creative experiences throughout the weekend, including yoga, sewing, orgonite creation, nature crafts, circus arts and more.
SONIC BLOOM returns June 15-18, 2023. Tickets, camping passes and upgrades are available via the festival's website. 
FOLLOW SONIC BLOOM:
Facebook: facebook.com/sonicbloom
Instagram: instagram.com/sonic_bloom_
Twitter: twitter.com/sonic_bloom
YouTube: youtube.com/user/sonicbloomfestival