Behind the Scenes: The Life of Music Festival Performers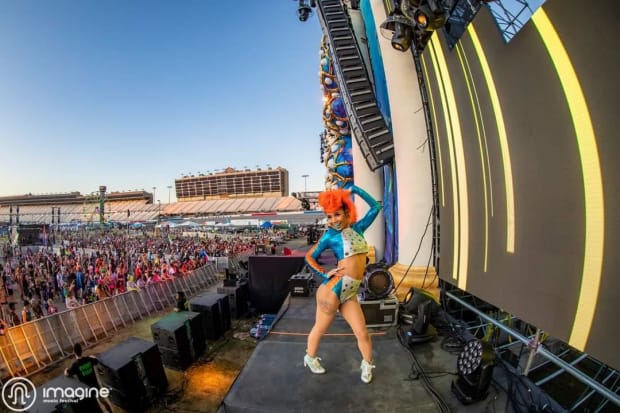 Ever wondered what it's like to be a fire spinner, go-go dancer or character performer at festivals? We spoke to three seasoned performers about their experiences.
At virtually all of the world's most renowned electronic music festivals, live performance artists amplify the magic of the event.
These mesmerizing flow artist performers are known for their ability to bring the event to life, adding to the visual experience and creating memorable moments for the crowd.
Have you ever wondered what it's like to be a performer onstage at festivals? I spoke to three Florida-based performers to find out how the scene looks through their eyes.
For Raine Lee, a 26-year-old performer who has danced at 11 iterations of EDC, the coolest part of performing is getting to dance for artists she loves.
"We typically do not get to choose our scheduling, so when scenarios and sets align perfectly, it's a magical thing," Lee tells EDM.com.
Lee has had the chance to perform at festivals featuring the likes of Excision, Tiësto, ILLENIUM and many more. She has also appeared at a slew of Imagine Music Festival editions as well as Sunset Music Festival, among many others.
Lee first entered the world of performance art through attending anime conventions.
"Growing up in a moderately sheltered home, my real taste of freedom as a teen was going to anime conventions," Lee explains. "Those conventions typically end up having 'raves' at the end of the night. From there, I was introduced to sounds like old-school techno, hardstyle and drum & bass. I fell in love with kandi, PLUR and rave culture."
Metrocon, Florida's largest anime convention, was Lee's first gig. From there, she went on to go-go dance at nightclubs in Tampa, building up her résumé so she could apply to perform with entertainment companies like Team EZ and Insomniac Events.
A variety of thoughts flow through Lee's mind when she's performing onstage. Ideally, she says, you try not to overthink your moves and enter a natural flow state.
"Wow, this is really happening?!"
"Okay, there's sweat in my eyes, but smile!"
"When's the next time my group will be eating?" she laughed.
View the original article to see embedded media.
The best thing that performing did for Lee is teach her how to become self-sufficient, traveling to new places and meeting talented people who turned into close friends.
"I would not be the person I am today without my experiences as a performer," she said.
The highlight of her performance experiences was dancing at EDC Japan, a festival she called "extravagant." 
This opulence has felt been in droves by Courtney Spinz, a 28-year-old fire dancer and character performer who says the best part of performing at events is adding to the magical experience.
"It's really cool to get to leave a little piece of yourself ingrained in the festival and be a part of the larger vision," said Spinz, who has danced at Electric Forest, Hulaween, Lost Lands, Okeechobee, Freaky Deaky and more.
View the original article to see embedded media.
Before getting on stage, Spinz practices a ritual wherein she reminds herself "how special it is to have this experience and do what I do.
"I embrace the whole moment—the people, the butterflies, the music—and I just let myself feel all of it and go for it," she said.
Spinz's favorite performance experience to date was at Electric Forest. She transformed into a moon goddess character, reading tarot cards for the headliners.
"The production [at Electric Forest] is on another level," she reminisced. "I'm really impressed with how many different elements they bring to life and the experience that they create."
View the original article to see embedded media.
Spinz knew she wanted to pursue performance arts when she attended Hulaween in 2015, when she was hooping in the crowd for ODESZA's set.
"I stopped to ask my friends for water and I had a huge group of strangers watching me. They were so mesmerized," Spinz recalled. "That feeling of sharing my passion with others and putting a smile on their faces completely sold me on investing into this career path. The energy exchange was such a magical feeling."
Courtney's favorite performance ever was LED hooping on the Eclipse Stage at Sunset Music Festival.
"I have never experienced a hula hoop flow like I did in that moment," she said. "The energy was indescribable and I truly felt like some higher power took over me, because I was just so lost in the moment. That was the largest crowd I've ever performed for and it truly took my breath away being up there."
For Casey Urtecho, a character performer and fire dancer based in Saint Petersburg, the moment that left her breathless was performing at Colorado's Sonic Bloom Festival, where she danced along to the captivating and enthralling beats rooted in Of The Trees.
"Not only was it surreal to dance for one of my favorite artists, but also the energy was indescribable," Urtecho told me. "Both the crowd and the performance team were amazing."
Urtecho decided she wanted to perform at events after attending Burning Man in 2018. Her first performance gig was for a children's cancer fundraiser.
"Seeing the intention all the other performers put into it, as well as how happy it made the children, has had me hooked ever since," said Urtecho, who uses dragon staff, hoops, parasols, wings, palm torches and even eats fire.
View the original article to see embedded media.
For Urtecho, the most fun part about performing at festivals is "enhancing the experience for attendees and working with very kind, creative and inspiring individuals."
She especially enjoys character work because she is "unrecognizable and completely immersed in another personality."
When it comes to fire performing, Urtecho stresses the importance of learning proper safety precautions. It's crucial to have a fire safety aide present, as well as a fire extinguisher, adequate fuel storage and a designated spinoff station.
"If anyone is looking to start their journey with fire, above all else, please receive training from a professional," she said.
Performing at festivals takes a ton of positive energy, but it isn't always all sunshine and rainbows.
For Urtecho, who has appeared at Excision's Lost Lands, among other major festivals, the most frustrating part about performing is when things happen outside your control, like navigating weather, travel or camping.
Spinz added that it can be tough to deal with inconsistencies, last-minute changes and bedlam that unfold when performing at festivals.
"Working large festivals is not for the weak," Spinz cautions. "You have to take care of your mind and body and be very flexible and easy to work with, because you're literally working in controlled chaos, and you don't want that to be reflected onstage."
If you're looking to get into the festival performer scene, take some of this advice from these seasoned flow artists.
"Don't give up, always challenge yourself and above all, remember that life is short," Lee said. "Make the most of it. Remember to live in the moment. Take it all in and just have fun."
Urtecho's most consequential advice for new performer s is to "build a portfolio and apply to everything. As you continue to put yourself out there, more opportunities will flow."
Spinz, on the other hand, believes new performers should build a solid media kit with a headshot, photos, a video of their best performance and a résumé. And if you plan on experimenting with fire, performance insurance is a must.
At the end of the day, what's most important is betting on yourself.
"Remember that you're not going to get every event or job you apply for, and it's not always going to be easy," Spinz said. "Don't get down about opportunities that aren't yours. Stay humble. Always have fun and keep putting yourself out there, no matter what life throws at you. If you want something bad enough, it will come."
FOLLOW RAINE LEE:
Instagram: instagram.com/raine.lee
Twitter: twitter.com/sailorraine
FOLLOW COURTNEY SPINZ:
Instagram: instagram.com/courtneyspinz/
TikTok: tiktok.com/@courtneyspinz
Facebook: facebook.com/courtneyspinz
YouTube: bit.ly/3Y75RWg
FOLLOW CASEY URTECHO:
Instagram: instagram.com/gaiacreatrix / instagram.com/astralphoenixflow