Elevate Your Sound and Production With Ghosthack's "Ultimate Producer Bundle"
Featuring custom-made sounds for a wide variety of electronic genres, Ghosthack's colossal bundle is an ideal choice for professionals and beginners alike.
Having an expansive library of samples is essential for any music producer looking to create high-quality tracks and grow their career. With countless sample packs, plugins and tools available, choosing the right ones can oftentimes become a vexing task, especially for beginners.
Ghosthack aims to lend a hand in solving that problem with their "Ultimate Producer Bundle 2023," which the audio company claims is "the biggest and best music production bundle" available.
The bundle comes in three versions: UPB2023 Exclusives & New, UPB2023 Basic and UPB2023 Premium. Each edition includes a range of sample packs, which are custom-made and tailored for a wide variety of electronic music genres, while all samples are 100% royalty-free, pre-cleared and suitable for commercial use.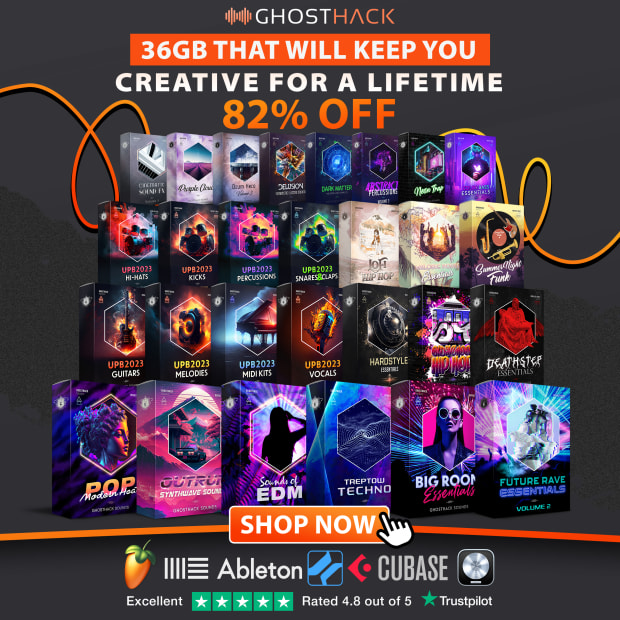 The UPB2023 Exclusives & New edition includes 12 unreleased and exclusive sample packs covering numerous genres, and is the best option for producers who already own Ghosthack sample packs and don't want to buy duplicates. With a total of over 6,500 files weighing in at 14GB, this version is currently on sale at $117.00/€117.00, way down from the regular price of $579.00/€579.00.
The UPB2023 Basic edition includes all 12 sample packs from the UPB2023 Exclusives & New edition, on top of an additional eight of Ghosthack's signature packs. This bundle covers over 11 genres and includes roughly 12,000 files for a total of 24.7GB of sounds. It's currently on sale at $157.00/€157.00, down from $966.00/€966.00.
The ideal option for producers looking to get the most bang for their buck., the UPB2023 Premium edition is the most comprehensive, including all 28 sample packs from the Exclusives & New and Basic editions. It spans more than 18 genres and includes over 18,000 sounds across 36.1GB of content. This is currently on sale for $184.00/€184.00, down from $1,556.00/€1,556.00.
The packs are as diverse as it gets. They feature genre-specific packs for techno, synthwave, funk, hip-hop, chillout, dubstep, pop and future rave, as well as folders of kicks, snares, claps, percussion, vocals, guitars and more. All sample packs are also compatible with any DAW and curated to ensure easy navigation and use, making them suitable for both beginners and advanced producers.
The first 350 producers to purchase the Premium edition will receive a free $50/€50 gift card and three exclusive bonus packs. Moreover, every UPB2023 customer is invited to Ghosthack's VIP song contest, with a chance to win prizes such as Yamaha HS7 Studio Monitors, an Akai MPK mini MK3, a Maschine MK III, Beyerdynamic DT 770 Studio Headphones and Ghosthack store credits.
Visit Ghosthack's website to find out more and purchase the Ultimate Producer Bundle 2023.
[embed]https://youtube.com/watch?v=jHGsS6UZup4[/embed]
FOLLOW GHOSTHACK:
Facebook: facebook.com/Ghosthack2501
Instagram: instagram.com/ghosthack_audio
Website: ghosthack.de