Inside Mysteryland's Historic 30th Anniversary Festival, a Blissed-Out Dance Music Haven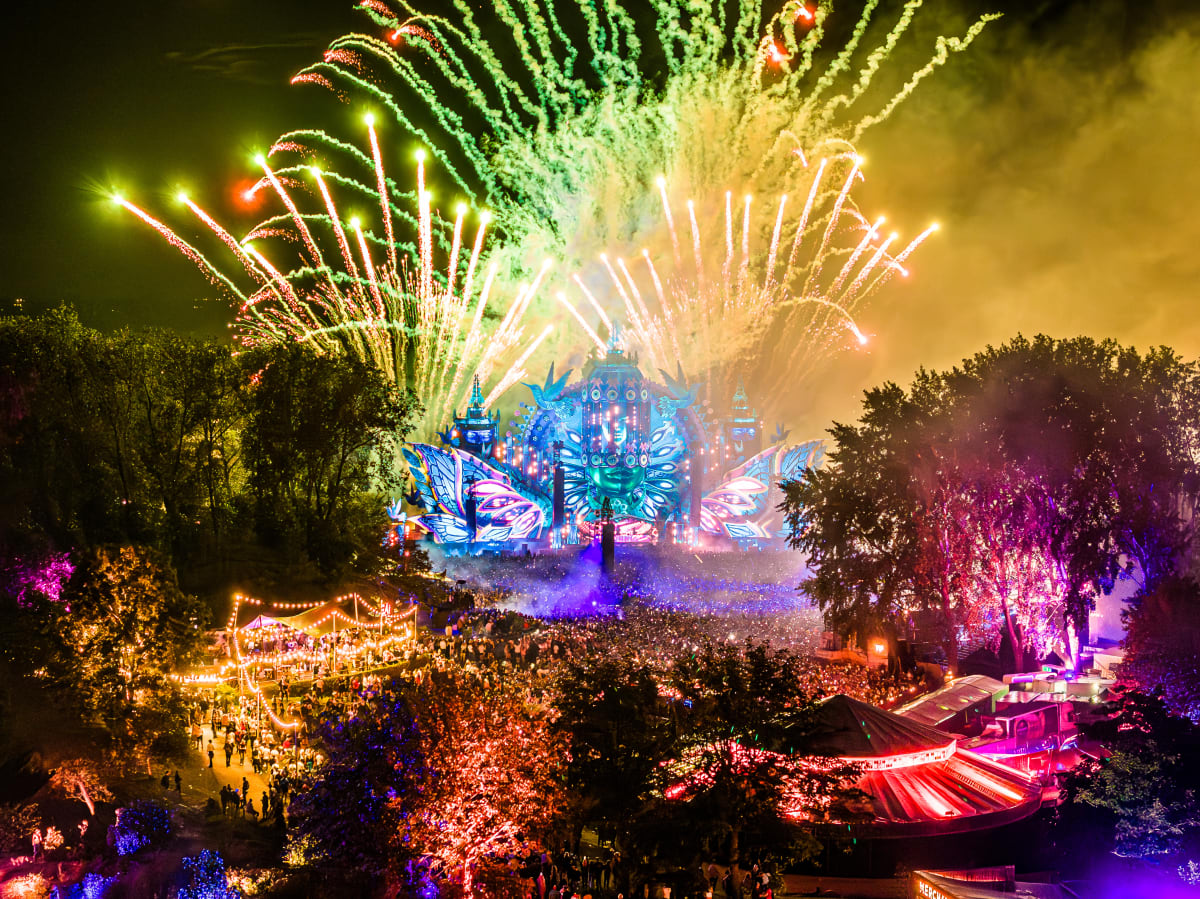 Transforming the lush fields of Haarlemmermeer into an electronic music dreamworld, Mysteryland rang in its 30th anniversary in spectacular fashion in the Netherlands.
The colossal 2023 edition of the world's longest-running electronic music festival took place August 25-27, attracting roughly 140,000 visitors from nearly 100 countries for a three-night extravaganza. Featuring more than 300 artists, 22 stages and an unforgettable camping experience, Mysteryland reinforced its renown as a global music and cultural phenomenon.
The festival's towering mainstage was not only an escapist's paradise, but also a full-blown tribute to artistic expression. Here, Mysteryland's robust sustainability efforts were literally the forefront, most notably by virtue of a durable golden inflatable mask designed for 15 to 20 years of use. Embodying the festival's commitment to a sustainable future, this stunning locale was its top destination throughout the weekend.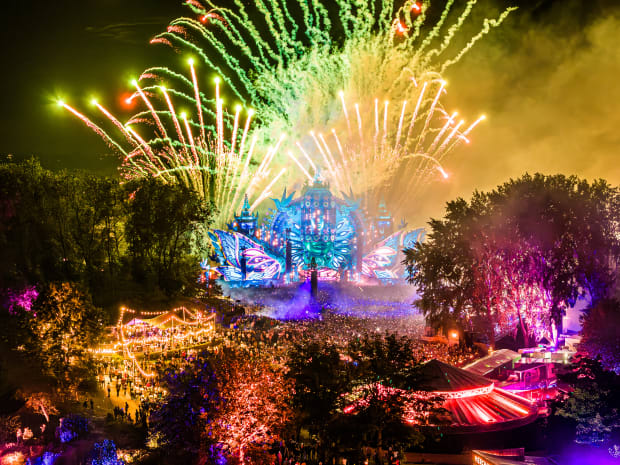 Mysteryland unstintingly embraced sustainability this year by running primarily on locally-generated green energy, unique feat on this scale within the festival landscape. Circular cup systems, compostable disposables and partnerships with sustainable startups highlighted organizers' commitment to reducing the festival's environmental footprint.
As part of the Green Deal Circular Festivals, Mysteryland is paving the way for a circular festival future, with the Revolution Foundation deploying volunteers to support sustainability projects. Notably, the festival's site featured 50,000 square meters of wooden floors and was nearly free of waste thanks to diligent cleanup efforts. With an unwavering focus on sustainability, Mysteryland also achieved a significant CO2 reduction by using green grid power for approximately 80% of its power consumption.
Now onto the music. From the fiery Q-dance stage, which hosted some of the world's most renowned hardstyle acts; to the Moonshine Barn, where visitors encountered a diverse family at the intersection of performance art and music; Mysteryland's curation was next-level this year.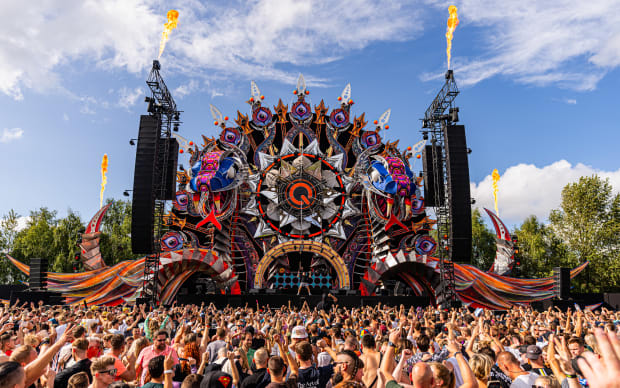 The mainstage featured sets from the likes of Hardwell, Malaa, James Hype, Alesso, Don Diablo, MORTEN and many more elite artists. Numerous takeovers took place throughout the weekend as well, including from Adam Beyer's Drumcode, Oliver Heldens' Heldeep Records and Sunnery James & Ryan Marciano's Sexy By Nature.
True to its commitment of keeping the lineup fresh with each new edition, Mysteryland's organizers secured debut performances from the likes of Gordo, Seth Hills, HI-LO, Laura van Dam, Joëlla Jackson and many more.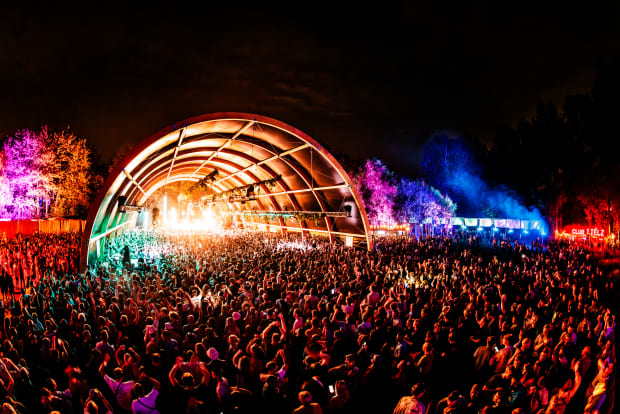 The entire festival site was truly a sight to behold. We found ourselves discovering countless beautiful details of Mysteryland's mise-en-scène, which had mesmeric sights splayed throughout all its corners. 
As attendees embarked on a journey through secretive polychromatic pathways, they discovered unique performers at the Coke Studio Sofa Sessions and immersed themselves in the imaginative world of Lady Joker, a creative force to be reckoned with. A small nudist beach onsite encouraged free expression while the top of Haarlemmermeer's landmark pyramid hosted an audiovisual voyage through the past 30 years of Mysteryland.
The campsite at Mysteryland was a world unto itself, teeming with over 20,000 visitors. Here, music enthusiasts enjoyed a kickstart into the festival weekend with five campsite stages while those seeking a respite from dancing found solace at the Wellness area and a swimming pool exclusive to the comfort camping section.
The campsite also included a terrace, workout area and restaurant as well as the bespoke Arcade stage, where attendees indulged in old-school pop and R&B nostalgia. Most notably, campers had daily access to the official Mysteryland afterparties, which featured performances from the likes of Gordo, Mau P and many more across five stages.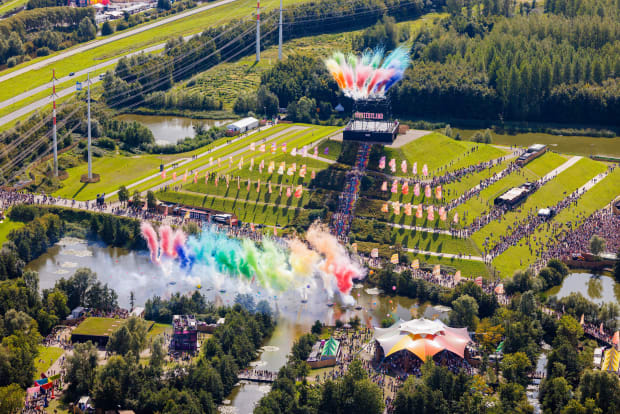 Mysteryland's 30th anniversary celebration was more than a music festival—it was a testament to the nexus of electronic music and sustainable innovation. It left behind unforgettable memories and a strong promise to continue delivering top-notch festival experiences for years to come. 
Mysteryland is set to return from August 30th to September 1st, 2024. Fans can pre-register here.
Follow Mysteryland:
Website: mysteryland.nl
Instagram: instagram.com/mysteryland_official
Facebook: facebook.com/Mysteryland
YouTube: youtube.com/c/mysteryland