Inside Skrillex's Transcendental Red Rocks Rave, the End of His Elusive Search for Identity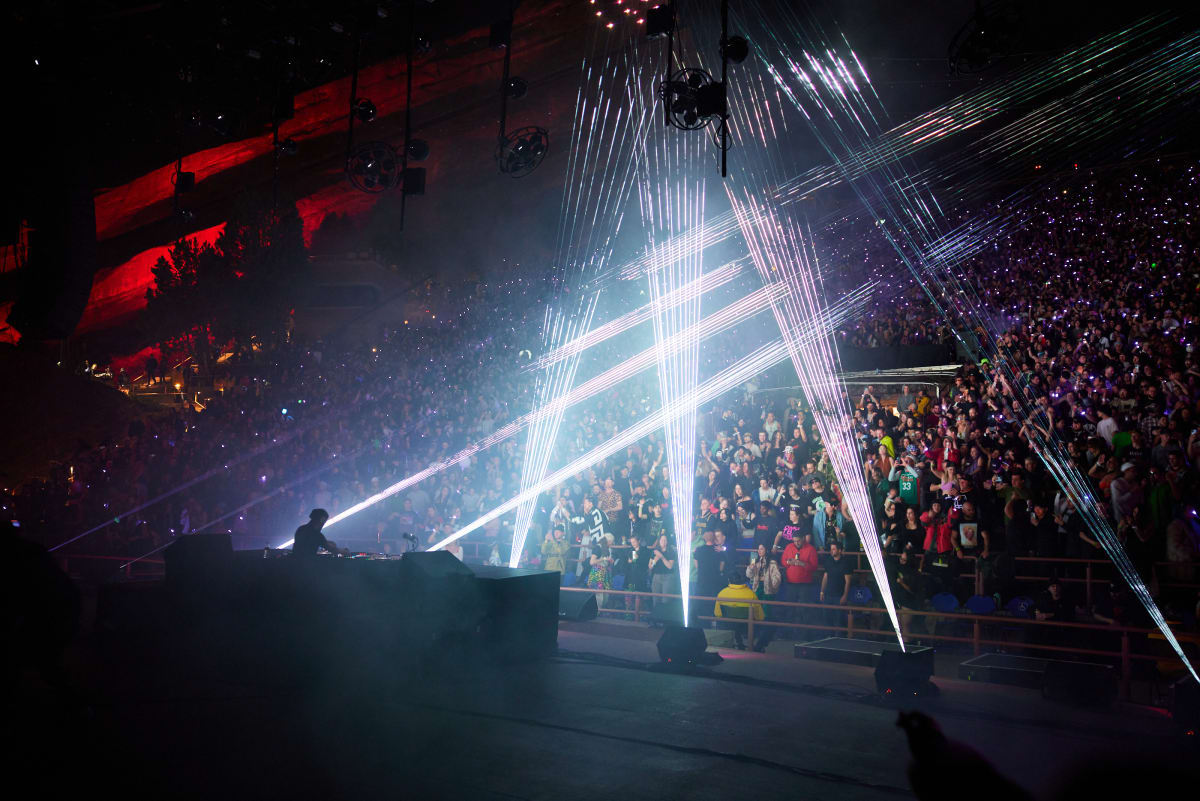 If there were ever a "you had to be there" moment in the Skrillex lore, it was his preternatural Red Rocks rave.
I'm not a spiritual person. I don't meditate and I cringe during conversations about horoscopes. But there was something in the air at Skrillex's 2023 Red Rocks show.
The concert was full-blown catharsis for the dubstep icon, who said it was "one of the best nights in my entire 35 years on planet Earth."
Skrillex laid the groundwork of a stateside EDM revolution in 2010, when he released his first two EPs, My Name Is Skrillex and Scary Monsters and Nice Sprites. His seminal debut album, Recess, then opened the floodgates in 2014.
But the music in its wake lived in a Potemkin village, an external façade that concealed a deepening fissure in Skrillex's personal life. Following the tragic death of his mother, he turned to alcohol as his sense of self eroded, and he eventually devolved into the doldrums of depression.
Skrillex's five-hour Red Rocks performance was the end of his elusive search for identity. He found himself on that stage, and on the strength of his palpable connection with us, the show was also a reminder that his inner demons were worth battling in the name of preservation.
In the words of famed philosopher Alain de Botton: "There is no such thing as work-life balance. Everything worth fighting for unbalances your life."
Despite the ferocity of his set, Skrillex is a DJ with the soul of a poet. Rattling the giant monoliths of the fabled open-air venue, each quaking drop served as a vignette of why we fell in love with electronic music in the first place.
If we could run concerts on Skrillex nostalgia, we wouldn't need electricity.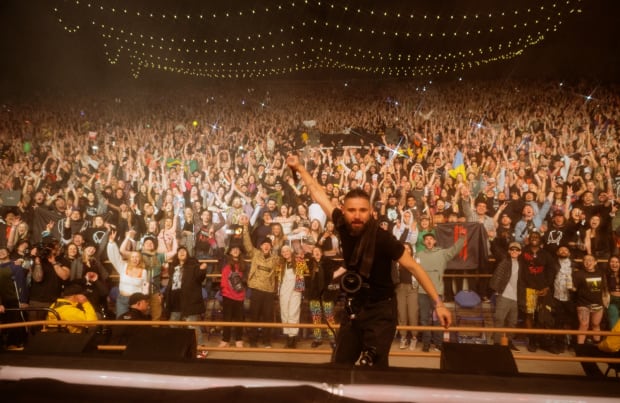 Skrillex is the rare artist whose performances reveal the true quiddity of his influence. In other words, when he DJs live, he changes everything.
That sentiment was clear from the outset. Those who barreled into Red Rocks when the doors opened at 7pm found Skrillex DJing smack dab in the middle of the amphitheater. Half a football field away from the stage, he got the party started in the heart of Red Rocks with an intimate set akin to Boiler Room.
We can't confirm if that's ever been done before, but there was nothing more apropos of the concert's prevailing function: a love letter to his fans.
From there, things got weird. It wasn't long before the sun set and the darkness crept in, mutating Red Rocks into a preternatural rave.
A cavernous sea of flickering LED bracelets lit up the venue in unison, breathing and vibrating to bass you could feel in your bones. It was poetry in motion, especially when the venue came unglued after Skrillex let loose the Missy Elliott-assisted "RATATA."
Even though he's blossomed into one of the world's most prolific contemporary music producers, dubstep is still Skrillex's love language. He turned back the clock and dropped "Summit," "Bangarang," "Kyoto," "Make It Bun Dem" and virtually every other throwback we could've asked for, except for his remix of Nero's "Promises."
He gave us the vintage serotonin rush we'd all been chasing, sending shivers to our toes with each classic banger. That feeling never wavered as he rinsed electro, drum & bass, hip-hop, house, Latin music and more, seamlessly switching tempos at the drop of a dime.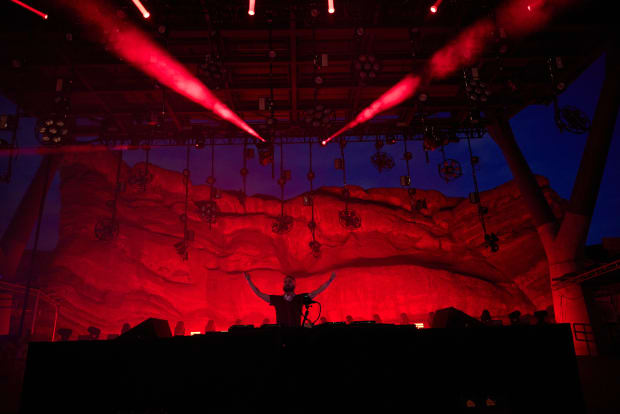 Skrillex, who has two more rumored albums on the way in 2023, also debuted a plethora of new music, including unreleased collaborations with Burna Boy, Hamdi and EDM.com Class of 2022 star ISOxo.
Replete with dark, mystical sound design and snarling bass, these forward-thinking songs will light the fuse of a paradigm shift in electronic music production.
In a night flush with electric moments, one of its indisputable highlights was Skrillex's breathtaking performance of "Emily," an emo track released back in 2004 by his former band, From First to Last. Here, he created a fascinating dichotomy between the ache in his voice and the concert's combustible euphoria.
Conflicting emotions be damned, it's clear Skrillex remains inspired by his roots.
The energy reached its boiling point during the show's incandescent conclusion, when Skrillex dropped his fan-favorite remix of "Cinema." We were dancing, head-banging, crying, thrashing, purging and singing at the top of our lungs.
"Cinema" capped off a night with zero special guests—just Skrillex and his fans. Somehow, five hours wasn't long enough.
Follow Skrillex:
Facebook: facebook.com/skrillex
Twitter: twitter.com/Skrillex
Instagram: instagram.com/skrillex
Spotify: spoti.fi/30OEWUh