JSTJR Just Gave a Music Marketing Masterclass—and Embarrassed Gullible Social Media Haters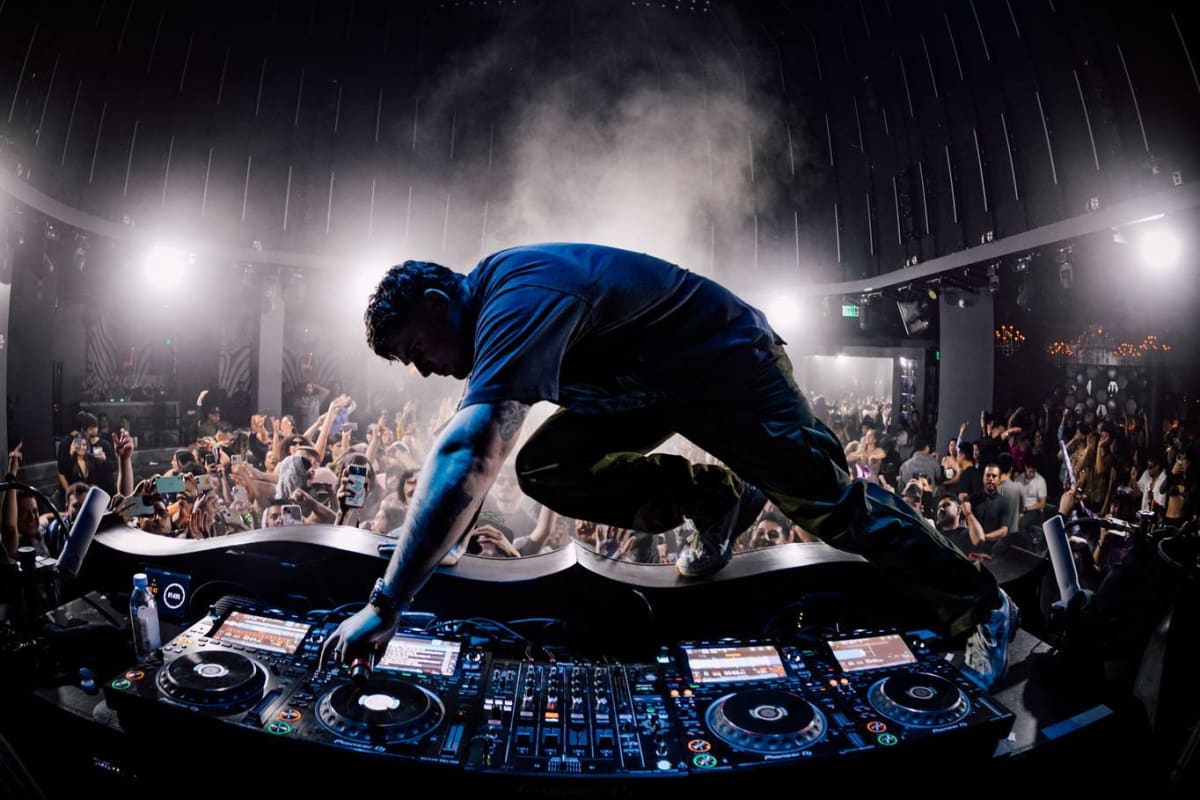 JSTJR harnessed the hostility of social media to create a satirical video and cunningly market one of his songs.
If there's one rule of social media, it's this: think before you comment.
Legions of clueless commenters are wiping the yolk from their faces after a clever video from electronic music producer JSTJR, who harnessed the animosity of social media to artfully market his music.
JSTJR recently took to Instagram to post a video of a DJ who appears to play music in a packed nightclub straight from his iPhone's Spotify app instead of the venue's state-of-the-art Pioneer decks. In no time at all, keyboard warriors stormed the comment section like a bull in a china shop, whining about everything from sync buttons to the club's talent buyers.
"We should cancel this dj, please tag him," wrote one apoplectic account. "All you have to do to dj nowadays is press play," wrote another. "When are you kids gonna learn that all these button pushers are playing pre-recorded sets," chimed in the crustiest of them all.
View the original article to see embedded media.
But anyone familiar with the jocular JSTJR, an esteemed producer with releases on Mad Decent, Ultra Records and many more, knew the video was a troll. He eventually "revealed" that it's him in the satirical video, which was planned as a cunning marketing ploy to promote the song therein.
The track is "I Wanna," a collaboration with Henry Fong that dropped on Tchami's Confession imprint in late 2022. Powered by the venom flowing through the depraved engines of social media, the clip amassed "tons of views" and was re-shared by over 10 meme accounts, JSTJR said.
It's a masterclass in social media marketing and a commentary on the scourge of content culture, which turns rational music fans into irrational cyberbullies. But above all it's an exercise in humility, one of the most crucial character traits for music producers, who deal with more rejection than a stereo salesman at an Amish conference.
"It's funny that this is what our social media is like nowadays, but you just gotta accept it and LEAN INTO IT," JSTJR tweeted. 
Follow JSTJR:
Facebook: facebook.com/jstjr
Twitter: twitter.com/jstjr
Instagram: instagram.com/jstjr
Spotify: spoti.fi/3YH4yg1