Richie Hawtin Hails the Roots of Techno With "From Our Minds – To Be Announced 2023 Tour" Warehouse Series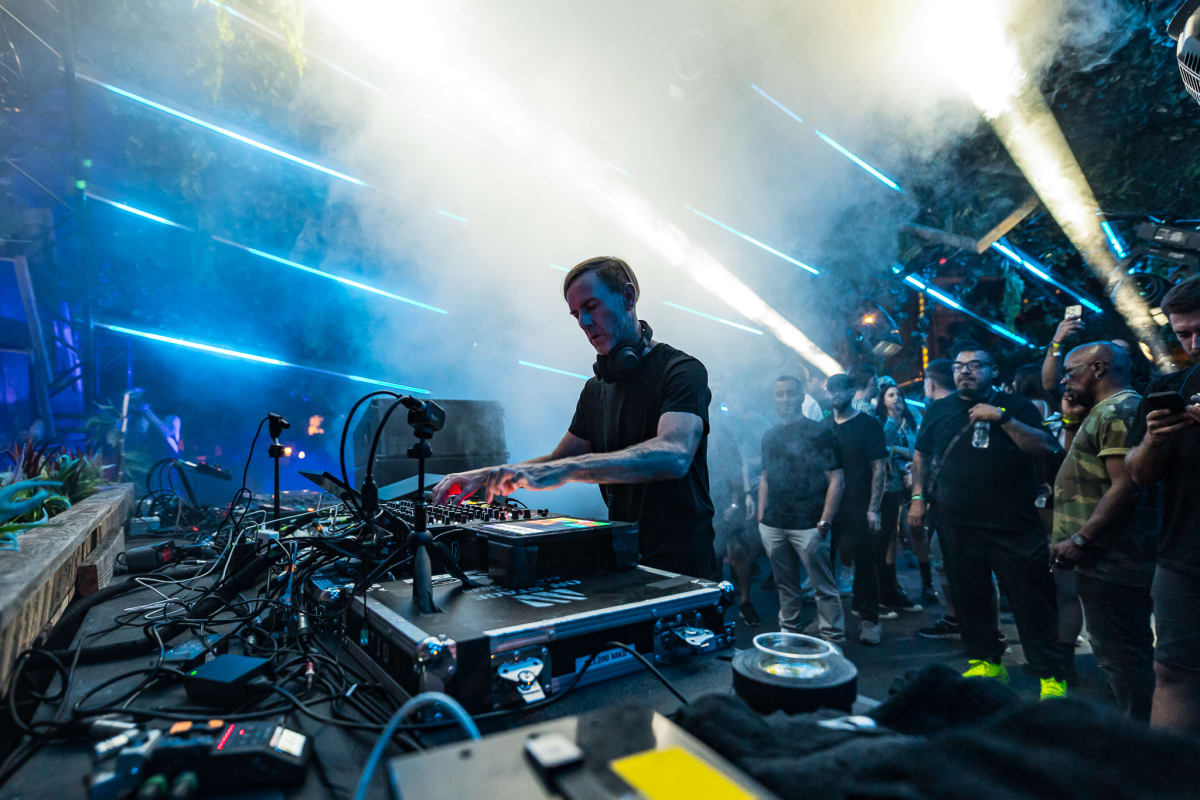 With a robust no-phones policy and sweaty, smoggy atmosphere, Hawtin's Los Angeles date was the epitome of "this never happened."
Your forehead is sweating and your feet are sore. People surround you on all sides. It's dark in here—a steamy, sticky, smoky dark, broken only by the foggy glow of skylights under the midnight moon. You're in Richie Hawtin's world now. 
Conceptualized by the braintrust of one of techno's most influential figures, the Hawtin-fronted "From Our Minds - To Be Announced 2023 Tour" took to the warehouses this year for eight nights of ragers across North America. The production used a holistic approach in each city, partnering with local artists and promoters who were interwoven with each regional rave scene. 
For the Los Angeles show, which we attended on March 18th, this meant a collaboration with iconic event brands 6AM and Synthetik Minds. It was also a timely celebration of 6AM's 15-year anniversary, hosted at the WORK warehouse where world class techno events like RE/FORM Festival and COMPOUND like to call home. Such a killer crossover perfectly epitomized Hawtin's mission with the tour: connecting techno's generation with its roots.
View the original article to see embedded media.
6AM founder JIA was the first artist to take the stage, kicking things off in celebratory style under hazy, flashing lights. With 6AM's classic no phones policy in place, it was the epitome of "this never happened." Freedom of expression is key to the spaces curated by 6AM. Once enraptured by JIA's spell, the crowd was unleashed to do its thing. 
Lindsey Herbert, a mainstay in the techno scenes of San Francisco and Phoenix, was next on the decks "It's quite surreal and an incredible honor to be part of this tour," Herbert wrote in a statement. "It's an absolute full circle and inspiring moment for me, and I'm sure for the other involved artists, to receive the kind of acknowledgment and support that Richie has provided." 
View the original article to see embedded media.
It's a special honor to precede the man of the hour, and Herbert rose to the challenge for a two hour marathon set. As Hawtin took the stage, Herbert's spellbinding song selections flowed seamlessly into the roar of energy and anticipation from the crowd. Hawtin, tapping in for a 90-minute performance, looked right at home. Under his command, the movement of the crowd was truly "from our minds": instinctual and unrestrained. Bass beats resonated off every available surface under the mindblowing lighting design of Derek Glover.
Closing out the show through sunrise was Toronto-based producer and Heist Mode labelhead Barbosa. After already performing for five dates of nine-stop tour—with another set scheduled for the next night in San Diego—Barbosa hit his stride with a plethora heart racing beats that burned off the rest of the gas in our tanks. 
Thanks to a unique partnership with Aslice, every track that made its way to the speakers was catalogued in order for the performing DJs to share their revenue with each song's original artist. "One of the most important, exciting, and altruistic projects our scene has ever seen!" Hawtin praised on social media. He is the first artist in history to utilize the service on the entire roster of every stop of a full tour. 
"Aslice shines light on the disparity in economics between producers and DJs and recognizes the intrinsic value music has for every performance. DJs have nothing to say without the music and artists behind it."
View the original article to see embedded media.
FOLLOW RICHIE HAWTIN:
Facebook: facebook.com/richiehawtin
Twitter: twitter.com/richiehawtin
Instagram: instagram.com/richiehawtin
Spotify: spoti.fi/32pK6WH