The Bromance Behind "Do You Want Me," Bob Moses and Hayden James' Breezy House Ballad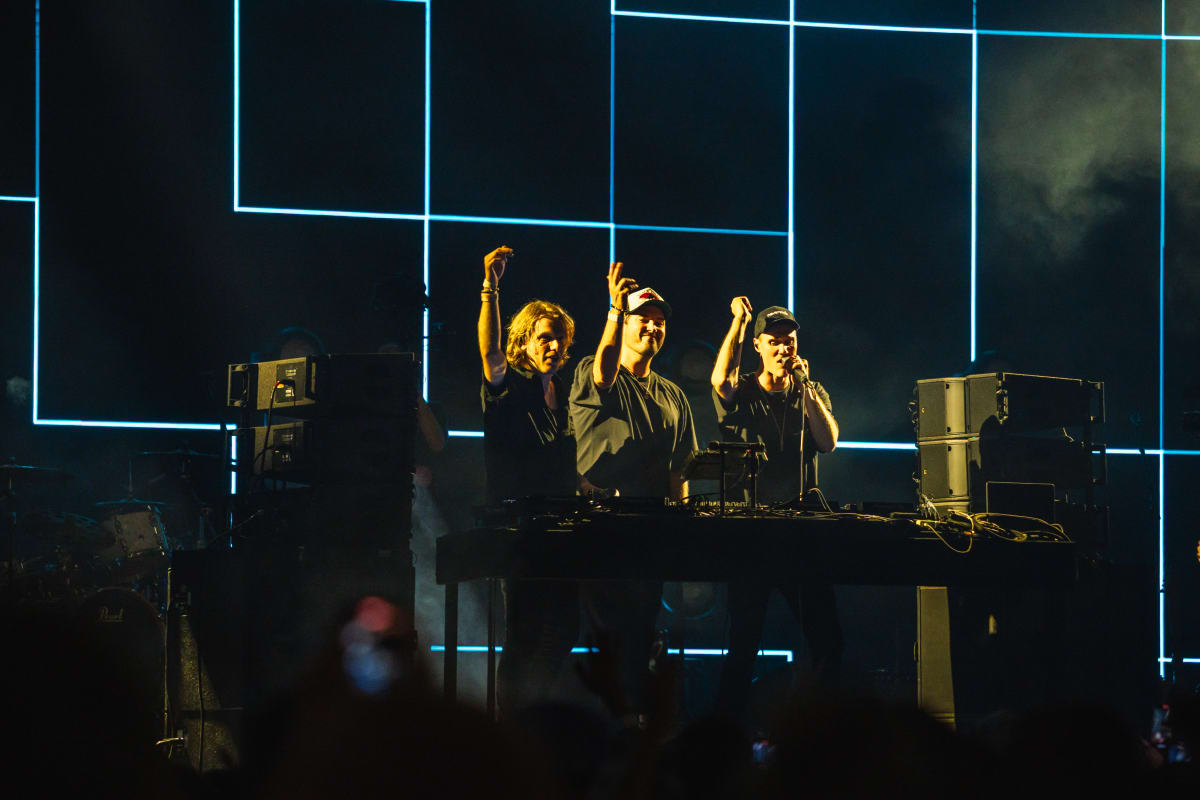 Bob Moses and Hayden James brought the best of both worlds on "Do You Want Me," their effortless, debut collaboration.
Released a few months ago, it's a shimmering summer anthem where yearning vocals from Bob Moses soar above a soundscape sprinkled with dance-pop elements à la Hayden James. The track is a billet-doux not only to their enduring friendship, but also their collaborative spirit.
View the original article to see embedded media.
A collaboration was long overdue. Four years ago, Hayden James remixed "Back Down," a track off the Bob Moses duo's Battle Lines album. The remix gave us a taste of what they'd sound like together.
Since then, their styles have evolved. The self-dubbed "rock band with an identity crisis," Bob Moses have dived deeper into indie-pop flavors, far from their brooding deep house roots. Meanwhile, Hayden James has been churning out euphoric, '90s-influenced house music. LIFTED, his sophomore album released last year, was full of it.
Both artists share a strong emphasis on songwriting and vocal-driven productions. But their chemistry extends far beyond their stylistic affinity. 
In conversation with EDM.com, Hayden James riffed with Tom Howie and Jimmy Vallance of Bob Moses like childhood best friends at a high school reunion. Quips and banter swelled through talks of dream collaborations, favorite tracks and collaborative goals. 
EDM.com: How did the idea to work together on a song come about?
Hayden: It was a couple of years in the making. I always wanted to work with the guys but geographically it just never worked out. I moved to LA about a year ago, Tom and I got to meet in the studio there.
EDM.com: Before the collaboration, how do you guys initially link?
Hayden: I remixed "Back Down" a few years ago.
Tom: We still play it in our DJ sets, great remix. We've been aware of Hayden and like his music. We asked him to do that remix and he crushed it. He's always a staple of our DJ sets, so it felt like before we even met him, we knew he was part of the family. Then, obviously, when we met him, we hit it off right away.
EDM.com: What was the production process like for "Do You Want Me?"
Tom: Hayden and I met in a Spotify Studio in LA. We messed around with the beginning of the idea, had some vibes, then sent it to Jimmy and he worked on it. We kind of punted it around.
Hayden: This was a really quick track to work on. It just felt good from the get-go, and was kind of done in like a month or so, which is probably a record for me personally for a song.

Tom: That's the great thing about the internet and Dropbox. You can just throw it around. We had a group chat going back and forth with ideas and it all came together, like Hayden said, super quick.
EDM.com: Can we expect more collaborations in the future?

Tom: We have nothing planned but there's always a blanket yes when it comes to Hayden.

Jimmy: He has the keys to our studios, and to our hearts, He's welcome anytime.
Hayden: Thanks boys.
EDM.com: This interview has just been filled with bromance.
Hayden: Yeah, it's getting hot in here.

Tom: Oh yeah.
Jimmy: "Do You Want Me" is the name of the single, and the answer is yes.
Hayden: I'm done. That's too good.
Tom: Mic drop on the interview.
EDM.com: Speaking of dream collaborations, Tom and Jimmy, which singer would you love to see Hayden collab with?
Hayden: I'm taking notes!
Jimmy: There's a lot of '90s throwback stuff happening right now. There's "Fine Day" with Kirsty Hawkshaw from Opus III that's now come back. Cloonee did a remix. Skrillex and Boys Noize did one. So, maybe Bjork. Or something out there, a bit left to center. You could make a poppy dance track underneath one of these iconic '90s tracks.
Hayden: I'm going to do that.
Tom: I can't wait to hear the Bjork one.
EDM.com: What about producers in the electronic music space?
Jimmy: Chemical Brothers. I'm going '90s big leagues. Swing for the fences! You don't want to play D2, you want to be in the NHL of music.
Hayden: Jimmy's my new manager, by the way.
EDM.com: Over to you Hayden. Who would you love to see Bob Moses collaborate with?
Hayden: I'd love to hear a Duke Dumont style production with Bob Moses intertwined. I think that'd be heavy and emotional.
Jimmy: A little crying on the dancefloor.
Tom: Good idea. If only we could make that happen.
Hayden: He's out there somewhere!
Tom: You see a Duke in the wild? Let me know.
Jimmy: Duke, are you out there?
EDM.com: Tom and Jimmy had rehearsal spaces a block away from each other for over a year before crossing paths in a Lowe's parking lot nearby. If it wasn't for that chance encounter, Bob Moses might not exist! Hayden, what's the most fortunate chance encounter you've had in your career as a musician?
Hayden: I'm with Elderbrook right now at an Airbnb, we're playing a festival soon. And actually, I met Elderbrook backstage in Australia. We had dinner that night and hung out. The Odesza guys were there as well. If I hadn't met them at that moment, I wouldn't have gone on tour with them or written a song with Elderbook. Especially moving to LA, you've got to be out there to play the game. You can't expect things to just happen if you're sitting at home.
EDM.com: You guys went B2B at Electric Forest. What do you think makes a good B2B set?
Jimmy: It's complicated. You're kind of nervous going into them because you don't know the other person. It's almost like playing poker—you don't know what the other person's hand is. The thing with Hayden is, because we get along so well as people, I feel like that helps. If your personalities are similar, you can plan a road map of where to go and how to read a crowd. It's really tough because you might think musically that certain acts work really well together, but I think back-to-back is more about personalities connecting behind the decks.
Hayden: It's like a date.
Jimmy: A lot of DJs have all kinds of music. I have a folder for stuff we would never play in a Bob Moses set, waiting for that after, after, after party to draw. So, it's just about feeling comfortable being next to someone to unlock that.
EDM.com: What would be the ideal setting for a Bob Moses B2B Hayden James performance?
Hayden: I think our musical tastes and what we do is for a sunset. I'm talking three-hour B2B, sun is just setting, and you're getting that last flicker of light into the night. That's a great transition. You can play different moods. And if we're doing that, it's got to be on a beach. I'm thinking a San Diego kind of vibe.
Tom: I'm with you.
EDM.com: What's been your most memorable moment of 2023 so far?
Hayden: Coming out of Covid, everything has gone super fast-paced. It's like, hey, what happened this year? It's really difficult to kind of pinpoint. Also, my brain.. that's just what it is. But, 2023, moving to the States is a big thing—and being able to play shows here. I've been loving playing all the festivals that I have all throughout the States and Canada. I'd probably say my favorite thing this year was playing Osheaga festival at 4 pm and it was just absolutely rammed. When you're playing early and it's packed, it's just such a good feeling.

Jimmy: Tom and I both had kids this year and we both didn't really do a good job of taking a break. I had a kid and two and a half weeks later, we headlined Red Rocks. Then, Tom had a kid a few months later and we did a big show for Bonnaroo. Those were both amazing shows without that being involved. But it's the juxtaposition of being a new dad or having a new child in the world to playing in front of so many people. Those two things are both highs but they couldn't be more different.
When we asked Bob Moses and Hayden James what they thought each other's best tracks were, hilarity ensued. Text can't quite capture the moment, so enjoy the clips below.
EDM.com: Hayden, what's your favorite Bob Moses track?
[embed]https://youtube.com/watch?v=Cp-PwX-cVbY[/embed]
EDM.com: Tom and Jimmy, what's your favorite Hayden James track?
[embed]https://youtube.com/watch?v=78Ot31bK6PE[/embed]
FOLLOW HAYDEN JAMES:
Facebook: facebook.com/haydenjamesartist
Instagram: instagram.com/haydenjames
Twitter: twitter.com/hayden_james
Spotify: spoti.fi/3QLEw95
FOLLOW BOB MOSES:
Facebook: facebook.com/bobmosesmusic
Instagram: instagram.com/bobmosesmusic
Twitter: twitter.com/bobmosesmusic
Spotify: spoti.fi/3387taM