Coachella's Stuffed Food Lineup Features Secret Bars, Speakeasies and a Michelin Star Pop-Up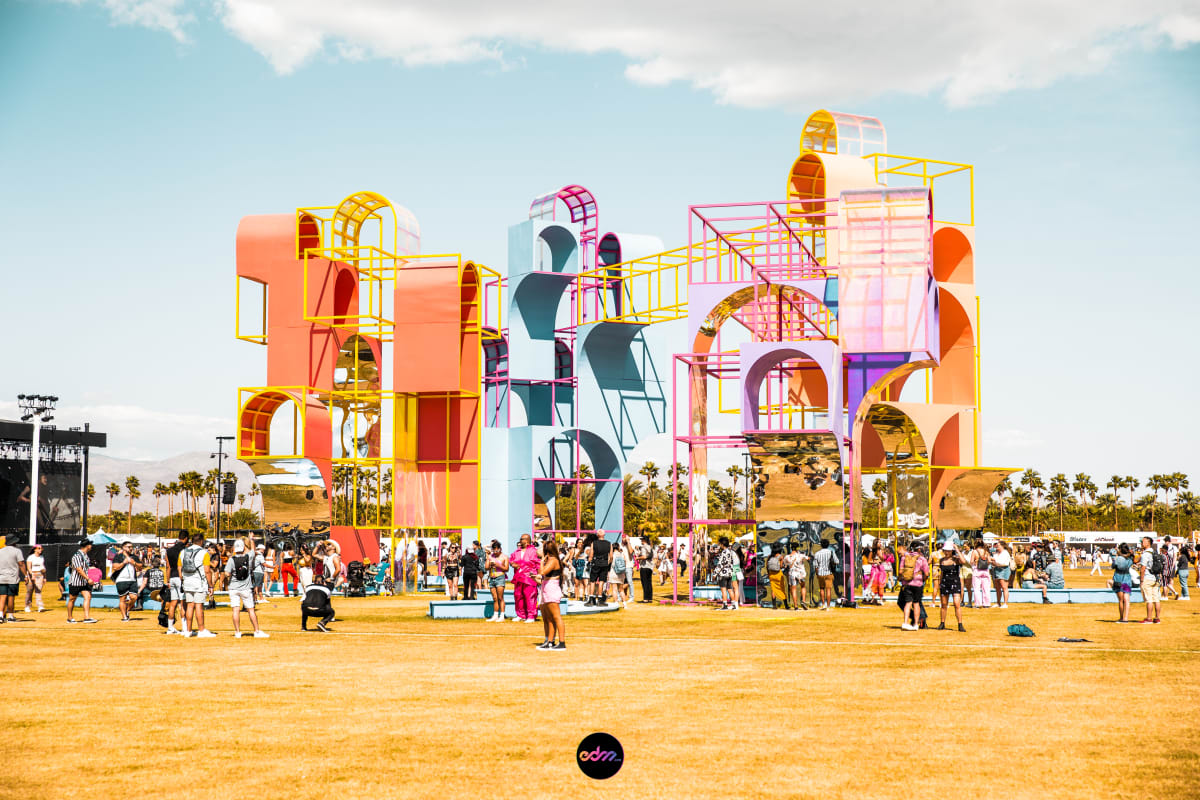 Who's up for a 16-course omakase sushi experience complete with a sake pairing?
From sushi speakeasies to farm-to-table dining experiences and secret bars, this year's Coachella culinary lineup pairs perfectly with live music.
The famed SoCal music and arts festival has announced a stuffed food lineup ahead of its return to Indio April 14th, 2023.
Festival-goers can step out of the sun and into the Indio Central Market, Coachella's shaded food hall, for delicious meals by Sweetfin and chef Eric Greenspan's New School Quality Grilled Cheese. If your squad is seeking a savory meal, try the family-style tasting menu from Camphor, a French restaurant from the L.A. Arts District which is collaborating with OpenTable to design a full-service pop-up at the festival.
Looking for a unique, one-of-a-kind food experience to top off Coachella? Try Sushi by Scratch, a secretive pop-up by Chef Phillip Frankland Lee offering a 16-course omakase sushi experience and sake pairing.
Another special food option is Outstanding in the Field, a nomadic, farm-to-table culinary experience that celebrates local and sustainable farms.
"Each night, festival-goers can take refuge at the winding 200-person table enjoying a welcome cocktail and a seated, four-course, family-style dinner with wine pairings, served as the sun starts to set," the Coachella website explains.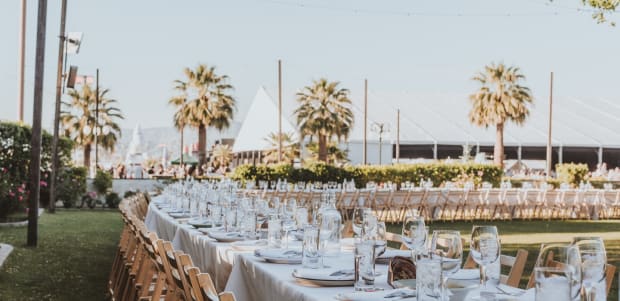 With food covered, let's explore Coachella's bar options. The festival's signature specialty cocktail programs feature recipes by mixologists from across the country.
Can you keep a secret? Coachella's secretive bar scene features Sonny's by Attaboy, a slushy bar with a Miami Vice theme, as well as New York City's PDT (Please Don't Tell). If sober raving is your thing, you can try a variety of mocktails at a non-alcoholic bar by virtue of a partnership with the New Bar. Coffee, tea and juices will also be available.
You can check out Coachella's full 2023 culinary lineup below, courtesy of Eater LA.
#Juicebae
Alfalfa
Argento
Backyard Bowls
Bang Bang Noodles
Bar Flores
Best Friend by Roy Choi (bar)
Big B the Chef
Block Party
Broad Street Oyster Company
Burger She Wrote
Cena Vegan
Chamberlain Coffee
Chimmelier Korean Fried Chicken
Compton Vegan
Dave's Hot Chicken
Delilah
El Chino Grande
Ever
loom Coffee
Farmhouse Thai
Forever Pie
Ggiata
Hattie B's
Hawkin's House of Burgers
Kazunori
Kogi
Kreation
Love Hour
Maneatingplant
McConnell's Fine Ice Creams
Menotti's
Mila by XCJ
Mirate + Mirame
Monty's Good Burger
My Lai
New School Quality Grilled Cheese
Olivia
PDT
Camphor
Post + Beam
Prince Street Pizza
Ramen Hood
Ronan
Slab
Something Good LA
Sonny's by Attaboy
Sumo Dog
Sunny Blue
Sushi by Scratch Restaurants
Sweetfin
Taco Party
Tacos 1986
The Cabin (Houston Hospitality)
The Nice Guy
Trill Burgers
The Nice Guy
White Sparrow Coffee
Wolfie's Hot Chicken
Woodfire Wings
Word of Mouth Truck
Yangban Society