How Bang Bang Is Refining San Diego's House Music Scene and Culinary Palate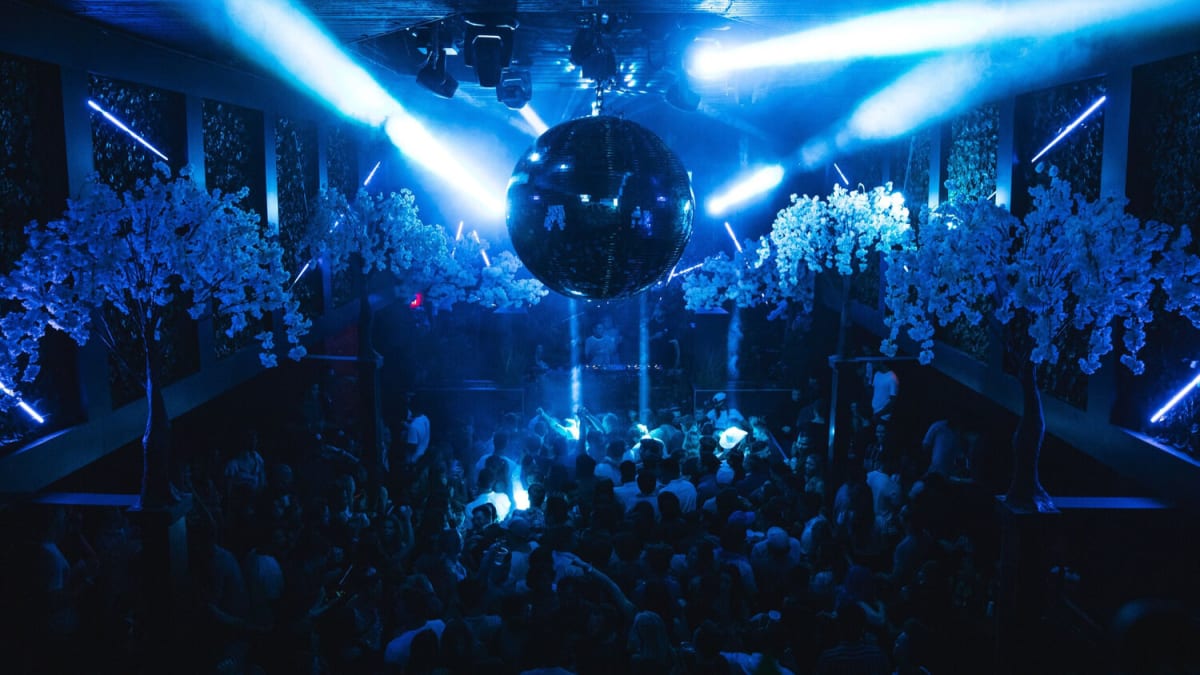 I am not a morning person. In fact, my soul thrives in the dark confines of the after-hours warehouse parties, where I can get lost in the music until the bright purple hues of twilight signal for me to finally get some rest. 
So when it was proposed to me that I attend a much-lauded Sunrise Session (where the party starts at six in the morning), I was quick to respectfully decline. However, after bearing witness to the successful events of the prior evening, I made sure to set my alarm and return to Bang Bang.
Coffee in hand, I walked the streets of San Diego's famed Gaslamp Quarter, where the thumping bass of the early morning party echoed into the nearly-empty avenues. Every so often, sharp-eared Sunday brunch-goers would whisper amongst themselves and ask, "Is that a dayclub?"
It was more than just a dayclub. This offshoot event catered to any and all who were ready to kickstart their morning (or to some, continue the party from the night before) by enjoying eclectic house music in America's Finest City.
View the original article to see embedded media.
Although the Sunrise Session soirees don't happen often, they are one of the driving forces behind the successful resurgence of Bang Bang. 
The downtown hotspot originally opened in 2013 under a joint partnership by Mauricio Couturier and Johnny Shockey of FNGRS CRSSD. After a prosperous seven-year stint, the venue shuttered its doors during the global pandemic. 
As COVID-19 restrictions began to ease, the Asian fusion restaurant and club was resurrected, this time under new ownership. At the helm of this revival was its new proprietor, Floridian house music connoisseur Islam Ahmed.
"I took Bang Bang over during COVID," Ahmed tells EDM.com. "We opened in April 2021 and we were following all of the ordinances. We made sure to test everyone and kept the club at 50% capacity, with masks and six-foot distances."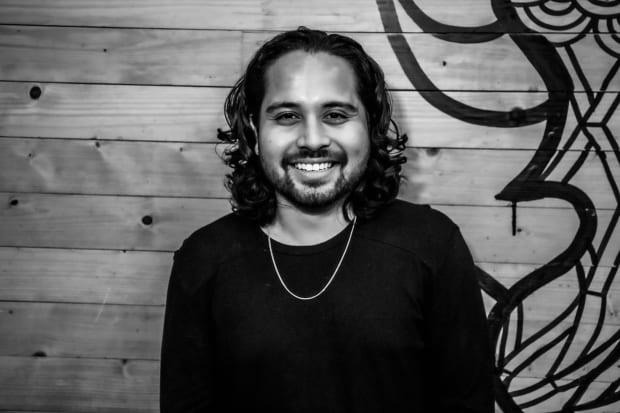 Luckily for Ahmed, pandemic-era restrictions would ease, giving Bang Bang the opportunity to flourish in a city that's become a refuge for techno and house music enthusiasts. Aided by festivals like CRSSD, this tech house renaissance has allowed Ahmed to bring his Floridian know-how to the west coast.
"I started off in Orlando going to festivals and I knew I wanted to work in music," Ahmed says of his early years in Florida. "I joined Alliance Nightlife by helping them with driving and logistics. Eventually, we booked AC Slater and worked on his tour, which made me really love that sound."
Ahmed's recognition as a nightlife expert grew after cross-promoting house music acts artists Ardalan and Justin Martin across Miami and Orlando. As the Central Florida market grew into its own, Ahmed was ahead of the game, focusing on advancing house and techno in the area.
"We had Will Clarke and Walker & Royce in 100-capacity rooms in 2016-17, back at the time when no one was booking stuff in Orlando," recalls Ahmed. "I just focused on doing house and techno and if I was going to lose money then so be it. But I knew for a fact that if I did this continuously, I was going to be successful."
And successful he was. Ahmed would eventually become the owner of Pyramid Events and manage the iconic Green Velvet, among others. After years of refining his nightlife expertise, Ahmed has taken everything he's learned and applied it to the West Coast with much prosperity.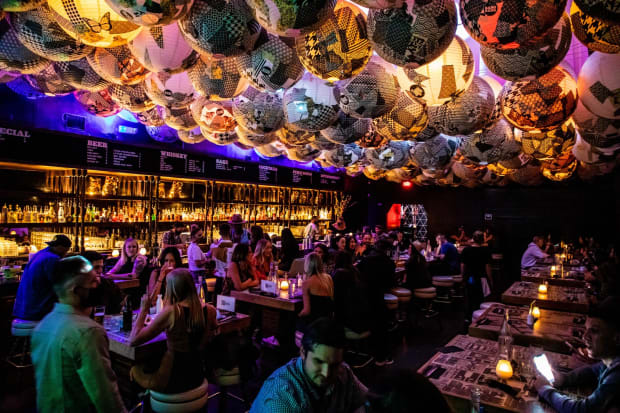 For the uninitiated, Bang Bang is a hybrid of sorts: part restaurant, part nightclub and part early-morning rave spot.
The inconspicuous Market Street facade leads to a tile-clad staircase reminiscent of an underground train station. Once on the second floor, a small-electronic sign outlines the venue's upcoming performances.
Depending on the time of day, you will be treated to either a highly decorated, Asian-inspired restaurant or a state-of-the-art nightclub where a giant disco ball hovers. Whichever one you attend, Bang Bang will leave you wanting more.
Speaking about the two experiences, Ahmed describes his restaurant offering first, saying, the dining experience "includes a wide range of sushi, Asian-fusion hot kitchen foods, sake, Japanese whiskeys and desserts."
However, as good as the cuisine is (I highly recommend the Bang Bang Roll and Yellowtail Nigiri), for me, where Bang Bang shines is on the dance floor, under the enormous disco ball.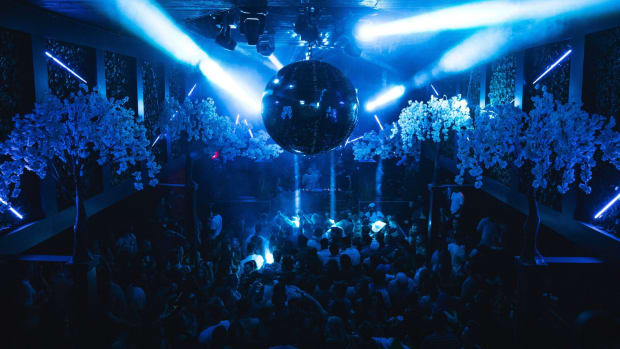 Surrounded by Japanese Cherry Blossoms and portraits of artists like Rihanna, Taylor Swift and Michael Jackson in samurai attire, the narrow room envelops you in its immersive setting. And with a capacity of just 400 guests, Bang Bang provides audiences the ability to experience top-tier acts in a private space.
"Being downtown, there are bigger clubs in the area, so we're unique to the size of the room and the sound that we book," adds Ahmed. "...We give a more intimate feel of a house party and more of a club culture."
That intimate ambiance, paired with Ahmed's trained ear for house music tastemakers, is what has set apart Bang Bang from other leading venues and promoters in the San Diego metro area. 
[embed]https://youtube.com/watch?v=SoAJc0VmwnM[/embed]
In 2022 alone, Bang Bang welcomed Black V Neck, Jody Wisternoff, Gene Farris, Lee Reynolds, Sage Armstrong, Pleasurekraft, Oliver Smith, Torrent Foot, Yousef, Secondcity, Lubelski, Mary Droppinz, Lucati, Avision, Dennis Ferrer and Franky Rizardo, among many others.
"It's really special for us to showcase who these guys are and the talent that they bring," says Ahmed. "We can't just focus on the rotating talent that we have in the country. We have to take a look at what's going on in Europe and South America."
Ahmed makes it a point to educate his audience on the wide array of DJs he books, some of whom rarely play in the U.S. Prior to each performance, he shares videos and playlists on social media to enlighten listeners on who the artists are and what they sound like. 
As for those far-flung artists who are not established in America, Ahmed makes it a point to get them to San Diego and show them a good time. 
"They do like the experience that we bring to the table. They come and they feel the energy here and want to come back to play in San Diego," Ahmed explains. "It's the experience, the vibe, the energy. I think it's unmatched when it comes to anywhere else in this city."
And speaking of unmatched experiences, remember that 6am party I attended? Ahmed hopes to continue pushing those crack-of-dawn affairs, citing Miami and Europe as inspiration.
"I'm trying to build a new culture around daytime events," he asserts. "You know how in Space Miami, their headliner goes on at 5am? Why can't our headliner go at 8am and we party until 2pm?"
So far, Ahmed's experiments have proven to be rewarding, with production on said events taking place surrounding high-traffic weekends. Major holidays, three-day weekends, and days surrounding festivals or special events are all of importance for these Sunrise Sessions.
"We hosted a Sunrise Session on New Year's Day and we had two rooms activated for eight hours straight," Ahmed exclaims. "It worked as a great pre-gaming spot before people attended Proper NYE or other events in town."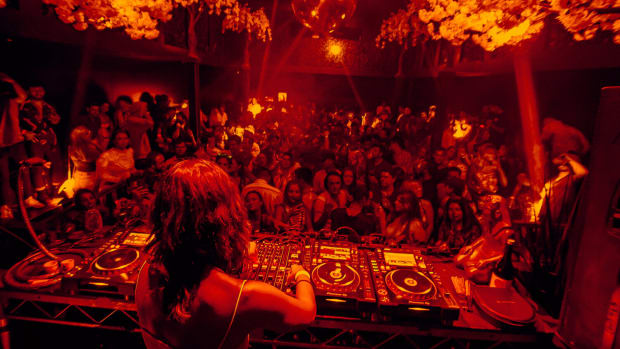 Ahmed's fruitful ventures in San Diego have nudged the east coast maven to further his reaches in the southwest. When asked about the future of Bang Bang, he was very enthused to share his expansion plans.
"We are opening up a second location later this year in Tempe, Arizona," reveals Ahmed, who noted the underserved residents travel often to California for house and techno events. "A big out-of-town clientele for us is from Phoenix and were pretty well known to that community."
According to Ahmed, the Arizona locale will act as a testing site for deeper, underground acts. Ahmed hopes to continue the ethos he has developed at his San Diego location into the burgeoning Phoenix metro area.
"I want to make a change in the market," states Ahmed. "This is a culture-sexy event for music enthusiasts that want to come and have a good dance. I'm very adamant about keeping good club culture. I'm very passionate about it."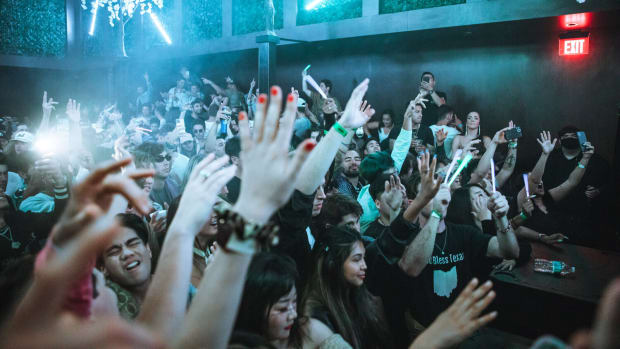 For more info on Bang Bang, including the restaurant menu, reservations and upcoming events, navigate here.
Follow Bang Bang:
Facebook: facebook.com/BangBangSanDiego
Twitter: twitter.com/bangbangsd
Instagram: instagram.com/bangbangsd