Check Out the Stage-By-Stage Lineups and Playlists for Shambhala 2023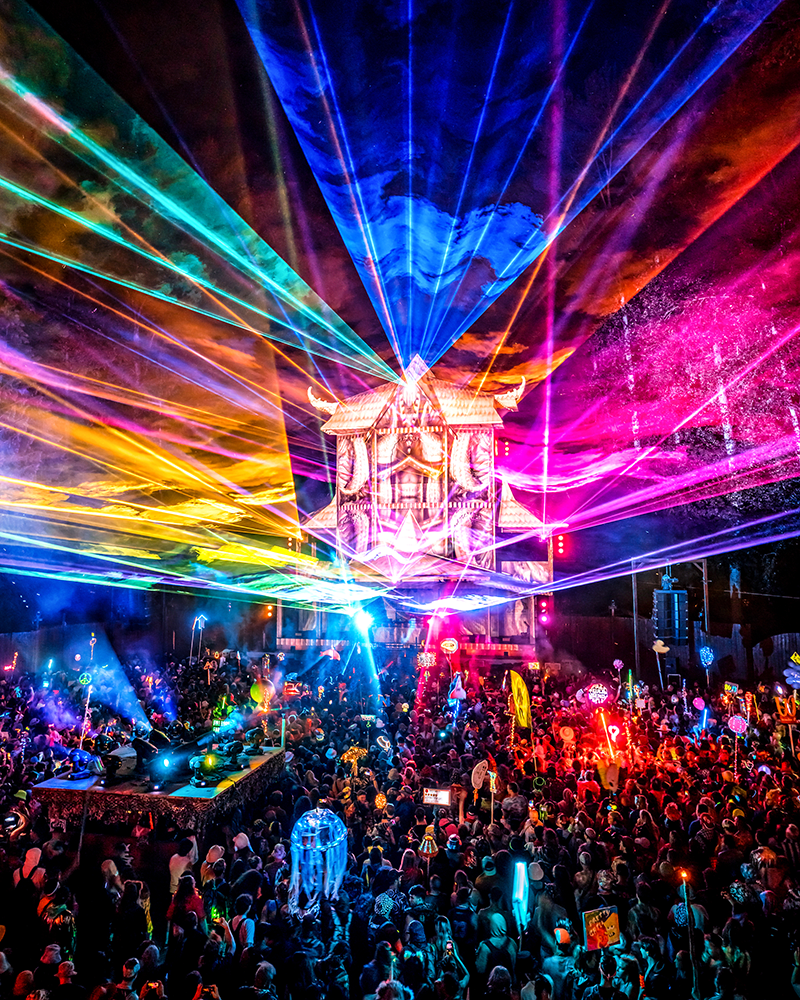 There will be bass in your face.
In case you missed it, the 2023 lineup for Shambhala is prodigious.
For the 24th edition of the beloved Canadian fest, the organizers of each stage really went all-out. Notable headliners set to perform at the farm this year include Chase & Status, GRiZ, RL Grime, Zeds Dead, Rusko, Excision and John Summit, among a plethora of industry titans. 
One of the many factors that make Shambhala Music Festival so unique is that each stage curates their own lineup. And they take the selection process very seriously to ensure a cohesive yet revitalized stage experience year after year. 
"This format has proven to deliver unique atmospheres and musical experiences as you move from stage to stage," Shambhala Music Festival's CEO, Neil MacLeod, said in a press release shared with EDM.com. "The Shambhala 2023 artist roster caters towards so many different tastes in music."
That it does.
For newcomers, it can be a little overwhelming to decipher the curated atmosphere of each distinct stage. So let's take a closer look at what's going down from July 21-24 at the Salmo River Ranch in British Columbia.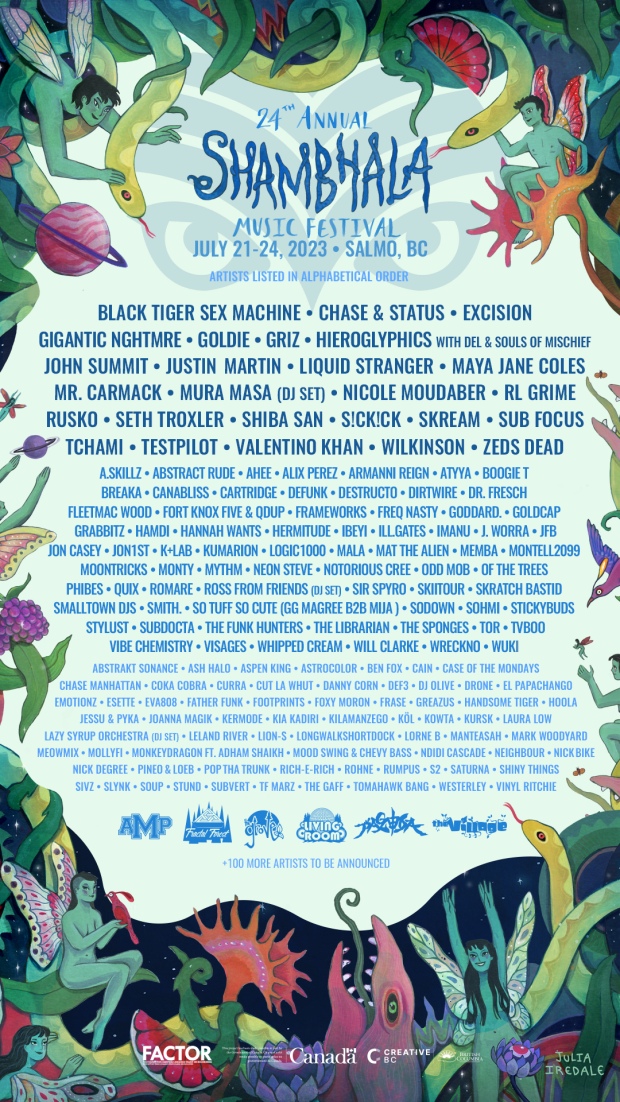 SHAMBHALA 2023: THE VILLAGE 
The Village: a place where bass heads and headbangers unite as one. 2022 was a historic year as attendees were finally able to see what the production team had been up to after demolishing what once was back in 2019. The reveal of the new Village stage was better than anyone could've ever imagined as it took the visual experience to a whole new level.
This summer, catch fellow Canadians Black Tiger Sex Machine and Excision take to the stage, as well as Boogie T, ill.gates, Rusko, Wilkinson and Gigantic NGHTMRE, the collaborative alias of Big Gigantic and NGHTMRE.
Listen to the 2023 Village Stage Spotify playlist here.
SHAMBHALA 2023: AMP 
One stage that you never fully know what to expect is the Amp. However, one thing is for sure: it's always bumping bass music from the finely-tuned PK sound systems. Whether that's drum & bass, dubstep or some other genre, there will be bass in your face.
This year, iconic drum & bass trailblazers Chase & Status will take the stage along with fellow U.K. legend Skream, as well as special sets by the likes of MEMBA and EDM.com Class of 2023 star IMANU, among others. 2023 will also mark the Shambhala debut of Seth Troxler, Will Clarke and Odd Mob.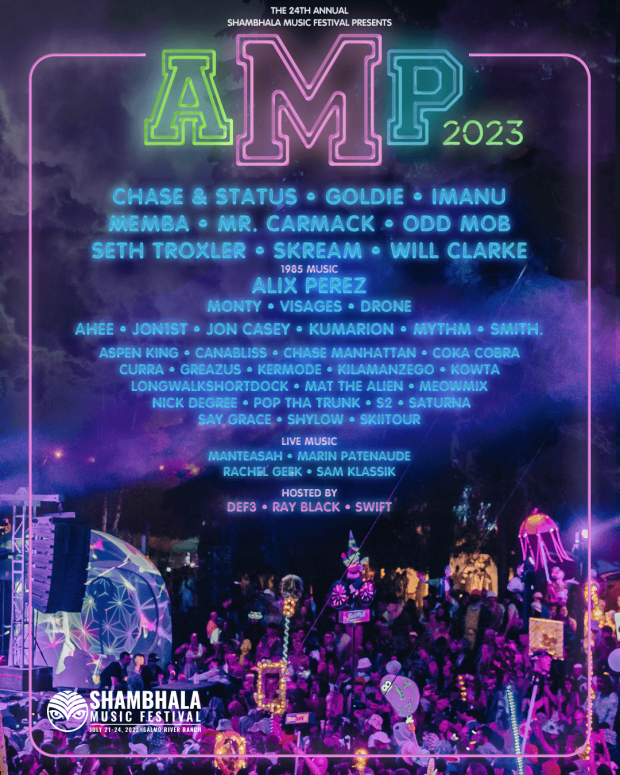 Listen to the 2023 Amp Stage Playlist here.
SHAMBHALA 2023: FRACTAL FOREST
Deep in the forest, at the heart of Shambhala, is where you will find the Fractal Forest. Dr. Fresch will make his return this year following an electrifying House Call Records stage takeover in 2022, not to mention Parisian producer Shiba San, Confession label boss Tchami, renowned producer Valentino Khan and the future-funk luminary GRiZ.
Let's not forget about the return of the Fractal mainstays, A.Skillz, Neon Steve, Stickybuds, The Funk Hunters, Smalltown DJs and Rich-e-Rich, among others. Danio Management's crew will also be in attendance, consisting of Def3, Slynk, Father Funk, K+Lab, The Gaff, JFB, and Fort Knox Five & Qdup. This year will mark the second set from The Sponges, PINEO & LOEB and Joanna Magik, as well as the Fractal Forest debut for Burchill.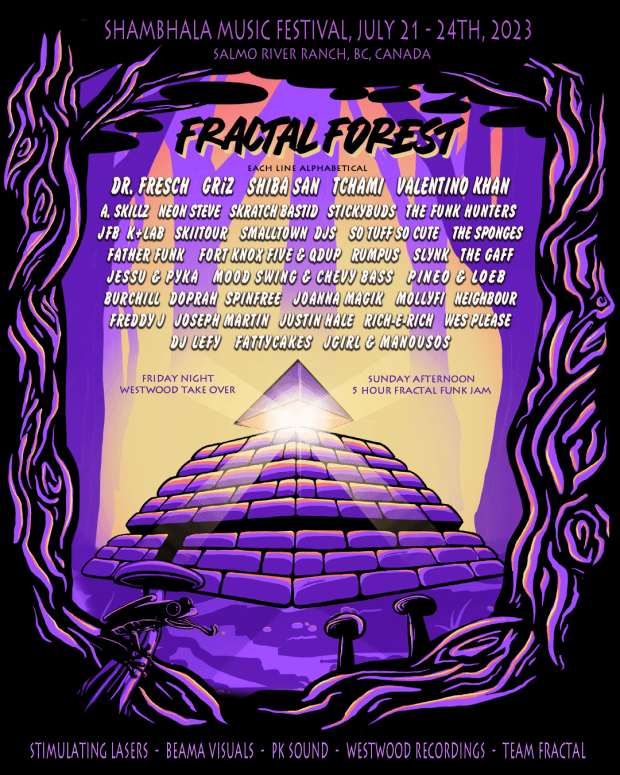 Listen to the 2023 Fractal Forest Playlist here.
SHAMBHALA 2023: THE GROVE
Step into the woodland oasis that is the Grove to indulge in an array of sonics. At the top of the docket, Grammy Award-winning producer Mura Masa will take the Grove Stage, along with a long-awaited performance from Mala and Sir Spyro, who were previously booked but sadly couldn't make it. 
2023 will mark the debuts of Logic1000, Romare and Ross from Friends. Lazy Syrup Orchestra returns, along with a solo set from Mark Woodyard, Frase, Handsome Tiger, JPOD and Carissa Gem as well as Bushman and Juju hailing from the jungles of Costa Rica.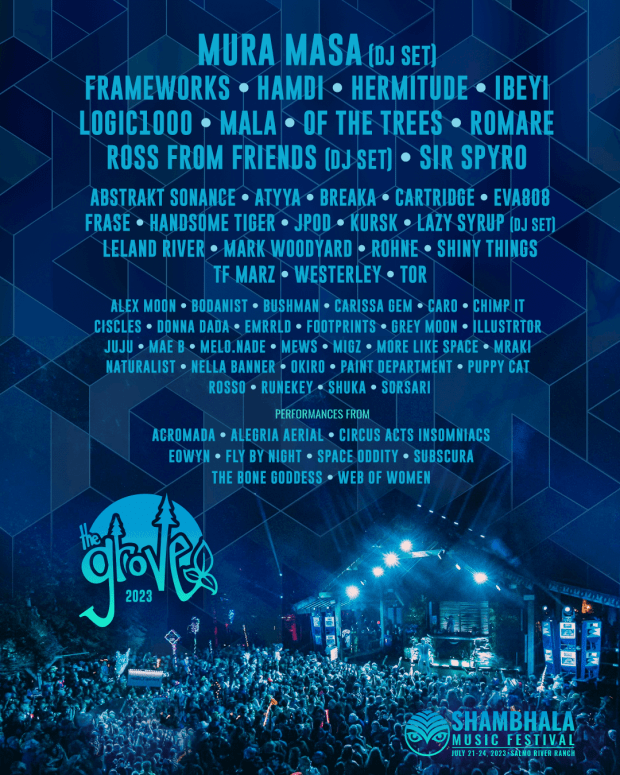 Listen to the 2023 Grove Stage Playlist here.
SHAMBHALA 2023: LIVING ROOM
Along the Salmo River is where you will find the Living Room stage, fit with lamp shades and cozy nooks in which to perch. However, this is no ordinary living room. 
During the daytime, this stage provides the quintessential soundtrack for some delightful riverside hangs. And at night, it's the place to be for dancefloor grooves. Get lost in the otherworldly techno and house music delights with Maya Jane Coles and Goldcap, The Librarian, El papachango, Monkey Dragon, Hoola and Vynil Ritchie.
"In true throwback fashion, we are tipping our hats to the Old School," reads the festival's website. "This year marks the celebration of 50 years of Hip Hop, an integral piece of the electronic music & dance scene."
The Living Room will also host Hieroglyphics' debut performance at Shambhala, featuring Del the Funky Homosapien and Souls of Mischief. Be sure to catch the debut performance by Astrocolor, plus the return of Dirtwire and BC beatsmiths Moontricks.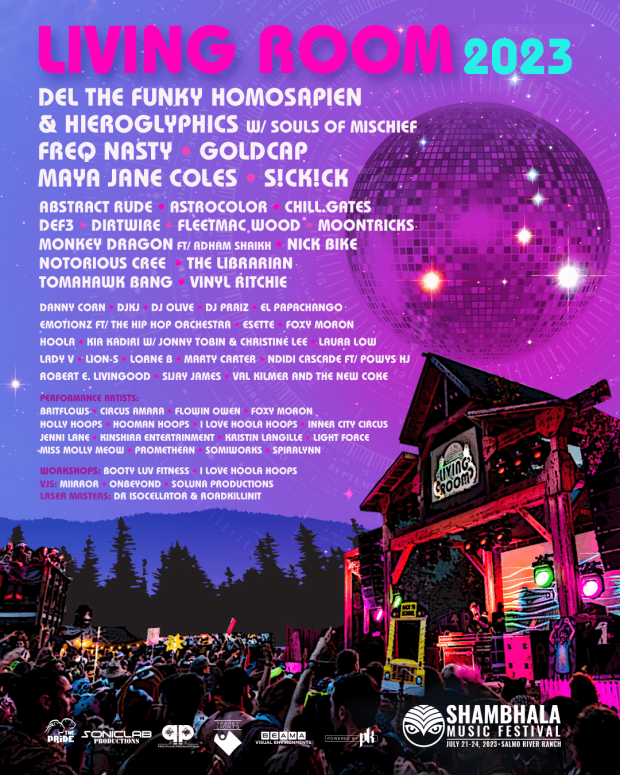 Listen to the 2023 Living Room Stage Playlist here.
SHAMBHALA 2023: PAGODA 
Visually speaking, the Pagoda Stage is a can't-miss. 
With its impressive, soaring white stage design or the hundreds—if not thousands—of lasers that twist into a centrifuge through every tree in sight, the Pagoda is a thing of beauty.
Musically, on the other hand, Shambhala first-timers Nicole Moudaber, John Summit and J. Worra are sure to impress, not to mention TESTPILOT, the techno nom de plume of deadmau5. The same can be said of the return of Justin Martin, Hannah Wants, Of The Trees, Zeds Dead, Destructo, Liquid Stranger, WHIPPED CREAM and Defunk, to name a few.
Listen to the 2023 Pagoda Stage Playlist here.
While Shambhala 2023 festival is 100% sold-out, there are opportunities to work your way in—literally. 
"If you weren't able to get a ticket for Shambhala 2023 but still want to be part of it, we encourage you to apply to join our crew and hope to see you on the farm this summer," MacLeod adds. 
FOLLOW SHAMBHALA MUSIC FESTIVAL:
Website: shambhalamusicfestival.com
Facebook: facebook.com/shambhalamusicfestival
Instagram: instagram.com/shambhala_mf
Twitter: twitter.com/shambhala_mf