Steve Aoki Drops 8th Album, "HiROQUEST: Double Helix"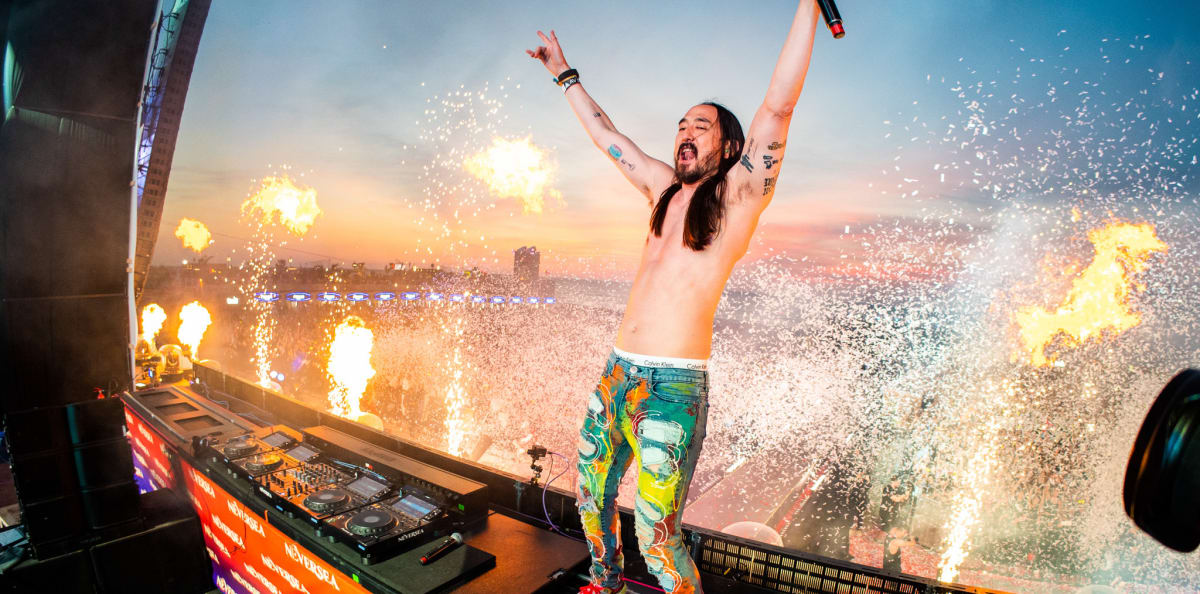 Steve Aoki has released HiROQUEST: Double Helix, his eighth studio album.
HiROQUEST: Double Helix features collaborations with Galantis, Akon, John Martin, Timmy Trumpet, Paris Hilton, Showtek and Hayley Kiyoko, among others. The new concept album expands upon the universe Aoki built within 2022's HiROQUEST: Genesis. 
"HiROQUEST is an IP I've created to tell these unique stories," Aoki said in a press release. "On my new album, I've been inspired by the past and the present, with Latin and dance collaborations at the core. These sounds are staples in my sets around the world and they allow me to connect with audiences on a truly global level."
Aoki is now gearing up for the "HiROQUEST 2 Album Experience" release party in Los Angeles on November 19th, courtesy of Meta. The event will also celebrate the release of the HiROQUEST Collectors Edition, which includes an exclusive CD, official graphic novel and four "ultra-rare" Kolex trading cards. Aoki wrote the novel alongside Jim Kreuger, a New York Times Bestseller and former Creative Director for Marvel Comics.
You can listen to HiROQUEST: Double Helix below and find the album on your go-to streaming platform here.
'HiROQUEST 2: Double Helix' Tracklist
1. Steve Aoki - Double Helix
2. Steve Aoki & Timmy Trumpet ft Sweet Minxxx - Prizm
3. Steve Aoki & Danna Paola - Paranoia
4. Steve Aoki & Trinix ft Akon - Locked Up
5. Steve Aoki ft Paris Hilton - Lighter
6. Steve Aoki & Galantis ft Hayley Kiyoko - Hungry Heart
7. Steve Aoki ft ERNEST - Us
8. Steve Aoki & KAAZE ft John Martin - Won't Forget This Time
9. Steve Aoki & Vini Vici - Wild
10. Alok & Steve Aoki - 2 Much 2 Handle
11. Steve Aoki & Brohug - Brothers
12. Steve Aoki ft Ángela Aguilar - Invitame A Un Cafe
13. Steve Aoki ft Greeicy - Cartagena
14. Tini & La Joaqui & Steve Aoki - Muñecas
15. Steve Aoki ft CNCO - Diferente
16. Steve Aoki & JJ Lin - The Show
17. Steve Aoki ft PnB Rock & 24HRS - Perfect
18. Steve Aoki ft. Global Dan - I'll Be Okay
19. Steve Aoki & Regard ft mazie - New York
20. Steve Aoki & Quintino - Motor
21. Showtek & Steve Aoki - Mirror Mirror
22. Steve Aoki & Tony Junior - Kids
23. Steve Aoki ft Greg Gunderson - Hyro

Follow Steve Aoki:
Facebook: facebook.com/steveaoki
X: x.com/steveaoki
Instagram: instagram.com/steveaoki
Spotify: spoti.fi/3d1TLFn