Shambhala Music Festival Announces Prodigious 2023 Lineup With Excision, RL Grime, More
Shambhala's CEO, Neil MacLeod, said it's the biggest lineup in the festival's history.
Festival season is officially upon us, and Shambhala has announced its 2023 lineup. 
Shambhala's 24th annual event is scheduled for July 21-24 at the Salmo River Ranch in British Columbia. Thousands of fans from all over the world travel to the lush grounds for a weekend of camping and bass at the Canadian electronic music festival, which has become one of the most popular in North America.
This year's lineup is the biggest in Shambhala's history, according to the festival's CEO, Neil MacLeod.
"As far as lineups go, this is our biggest yet," MacLeod said in a press release shared with EDM.com. "Our Stage Directors really pushed the envelope this year in order to bring some of the biggest names in electronic dance music, as well as a stack of talented up-and-comers that Shambhala has become known for amplifying."
Headliners include GRiZ, RL Grime, Zeds Dead, Rusko, Excision and John Summit, among others. Meanwhile, the undercard features a slew of the most promising artists in bass music, like Of The Trees, Hamdi, Kumarion and EDM.com Class of 2022 star Wreckno.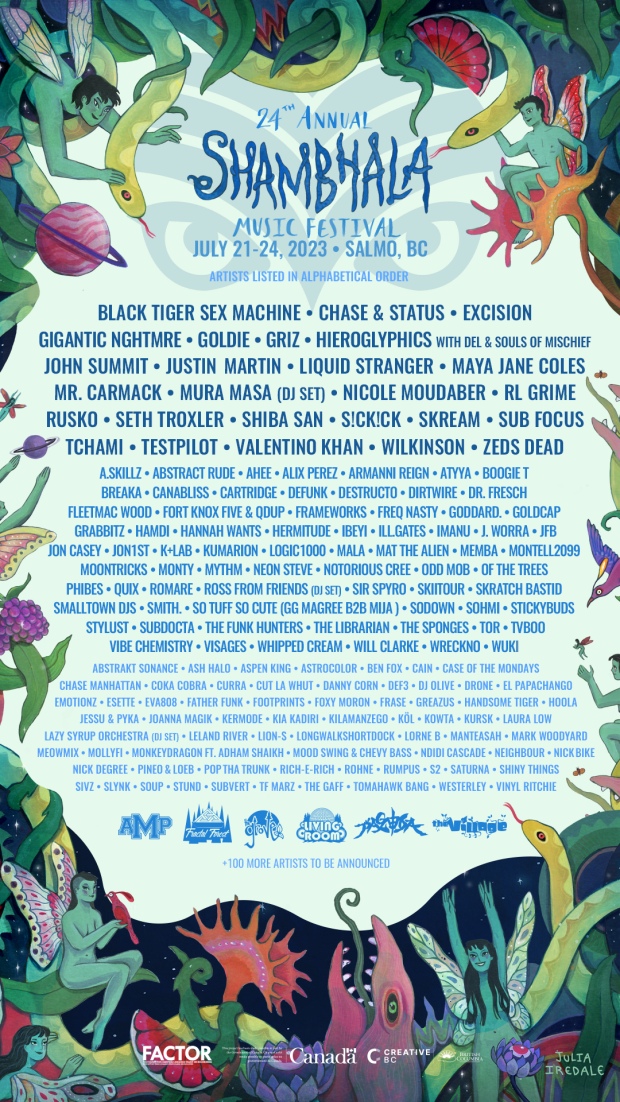 Shambhala 2023 attendees will also be able to experience special workshops, performance art, yoga classes and food and artisan vendors, among other onsite activations.
Shambhala started back in 1998 with only 500 people in attendance on Jimmy Bundschuh's family farm in Salmo, British Columbia. The festival has proudly steered clear of corporate sponsorships and disallows alcohol on the festival grounds. Moreover, Shambhala has an industry-leading approach to harm reduction. 
Early bird passes and all lodging packages are currently sold out. At the time of writing, general admission tickets are selling quickly due to high demand and can be purchased for $525 CAD here. 
Follow Shambhala Music Festival:
Website: https://shambhalamusicfestival.com/
Facebook: https://www.facebook.com/shambhalamusicfestival
Instagram: https://www.instagram.com/shambhala_mf/
Twitter: https://twitter.com/shambhala_mf