SVDDEN DEATH Condemns Fire-Breathing at Concerts After Ravers Ignite Flames in Crowd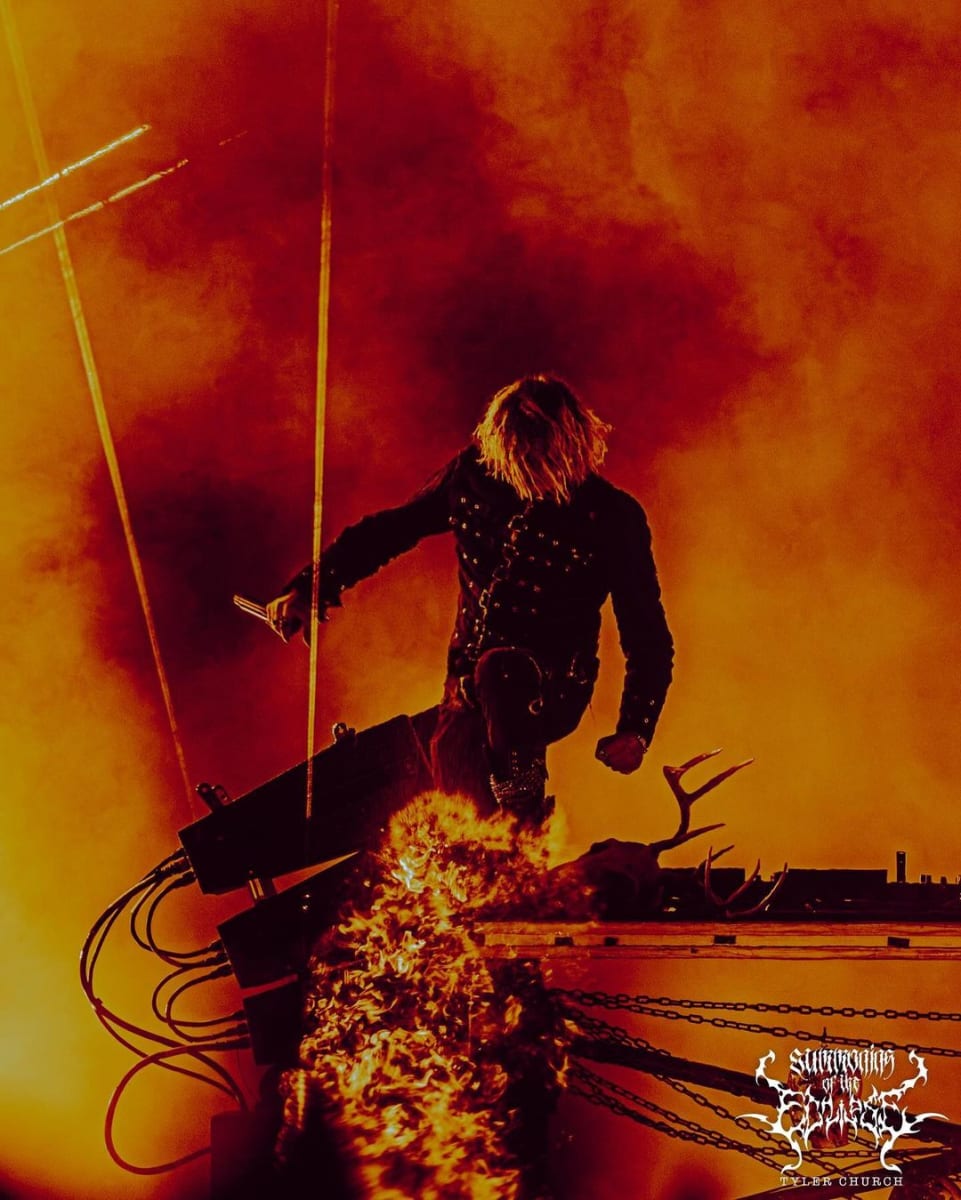 After a group of ravers engaged in the hazardous act of fire-breathing during a recent festival performance, SVDDEN DEATH has spoken out to extinguish the flames of their recklessness.
The electronic music superstar recently headlined Summoning of the Eclipse, his own curated festival, which returned to The Caverns in Tennessee from October 13-15. He performed as VOYD, a popular alias by which he releases and performs music with occult, infernal themes.
Videos shared on social media in the wake of the festival appear to show a number of attendees using lighters to ignite and blow large plumes of fire amongst the crowd watching VOYD's set. The risky stunt is accomplished by filling the cheek cavity with a lighter's gas before sparking it as close to the face as possible and spitting through pursed lips, forcefully directing the gas through the flame.
Most states require fire performers to obtain a certificate of registration from their Fire Marshal's Office. Amateur, unlicensed fire-breathers may have difficulty controlling the direction and consistency of the blaze's spray, often leading to severe burns.
Most disposable lighters, like the ones we see waved in the air at concerts and music festivals, contain butane, a highly flammable liquified gas. The burning of butane and any other hydrocarbon as a fuel may result in "inadequate oxygen levels, which may cause unconsciousness, suffocation and death," according to Hess Corporation.
Harm reduction remains one of the biggest flashpoints in the electronic dance music community and its festivals, which are typically linked to drug use rather than fire safety. SVDDEN DEATH ultimately took to social media to dump a sobering splash of cold water on the reckless antics at Summoning of the Eclipse.
The dubstep virtuoso, one of EDM.com's best music producers of 2022, condemned the "dangerous" act of fire-breathing and emphasized the importance of responsible festival behavior.
Representatives of The Caverns did not immediately respond to EDM.com's request for comment concerning the venue's safety measures with regards to fire-breathing.
Follow SVDDEN DEATH:
Facebook: facebook.com/suddendeath
X: x.com/svddendeath
Instagram: instagram.com/svddendeath
Spotify: spoti.fi/3yUw3Zn