Elderbrook Bends Boundaries of Electronic Concerts, Showcases Unrivaled Talents On "Little Love" Tour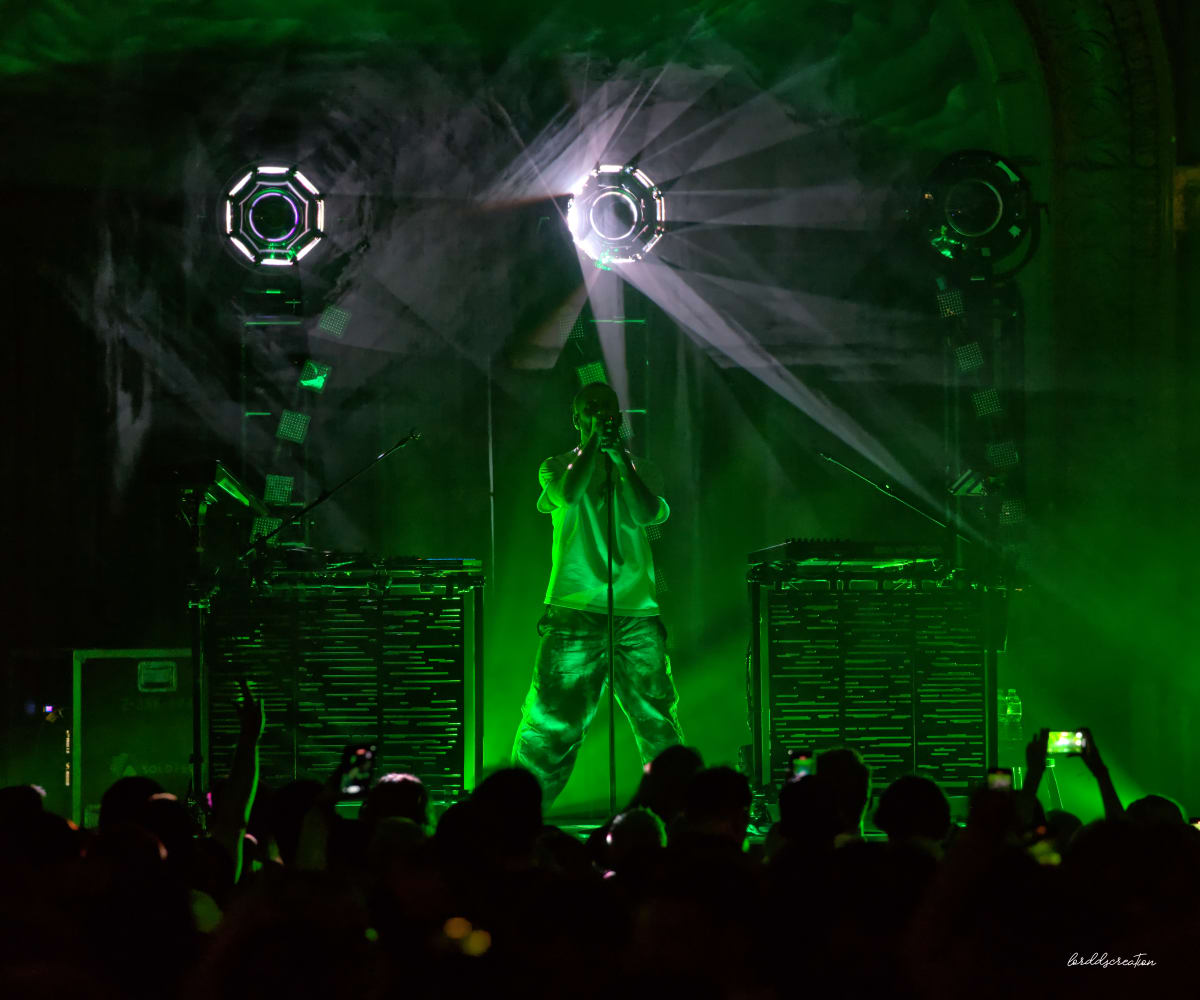 No one does a show quite like Elderbrook.
An Elderbrook concert is an experience all of its own. It is nearly unfathomable how much he packs into a single show.
He sings, DJs and dances all while incorporating live instrumentation. It's admirable how he stays on top of so many moving parts while never ignoring the most crucial component of any live show: the audience.
The only tell that he's human and not some musical cyborg is the sheer amount of charisma oozing from his silhouette. But make no mistake, Elderbrook does not fall into the category of Jack of All Trades, Master of None. Each skill is sharp and refined like a high-end Swiss Army knife.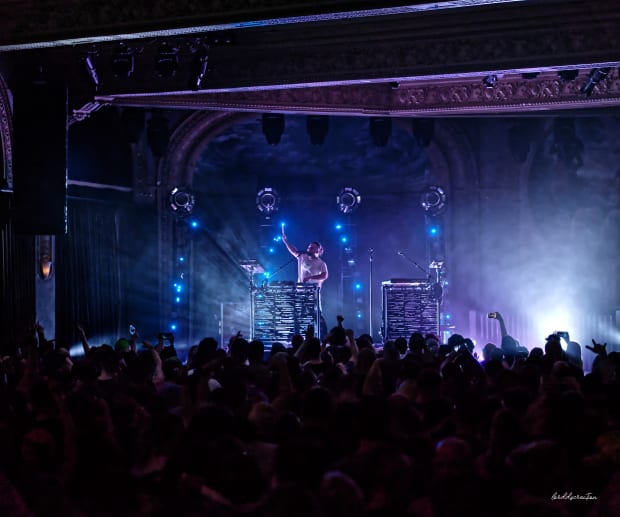 Elderbrook headlined consecutive sold-out shows at the Commodore Ballroom in Vancouver, British Columbia on February 22nd and 23rd. He immediately pulled us in with his intoxicating, cathartic anthem "Numb."
The invitation stuck and Elderbrook's fans were along for the ride from start to finish. Beloved hits like "Inner Light," "Talking" and "Something About You" had the room singing along, dancing the night away or closing their eyes to soak it all in. That's the magic of an Elderbrook concert—it speaks to each observer differently.
The headliner also paid great attention to the visual components of the show. Adequate visuals can be difficult to incorporate when you tour as much as Elderbrook does. Every venue will have its unique logistical limitations and transporting so much equipment can be a nightmare. It's part of what makes music festivals, permanent infrastructures and one-off specials such attractions.
That's why Elderbrook and his team deserve credit for tricking out the show with lighting and visuals that are both abundant and functional. Spiral lights up top, curved vertical lights on the stage, lighting strips on the back perimeter and in-house rigging were implemented to ensure the crowd could take in the sights from any spot in the house.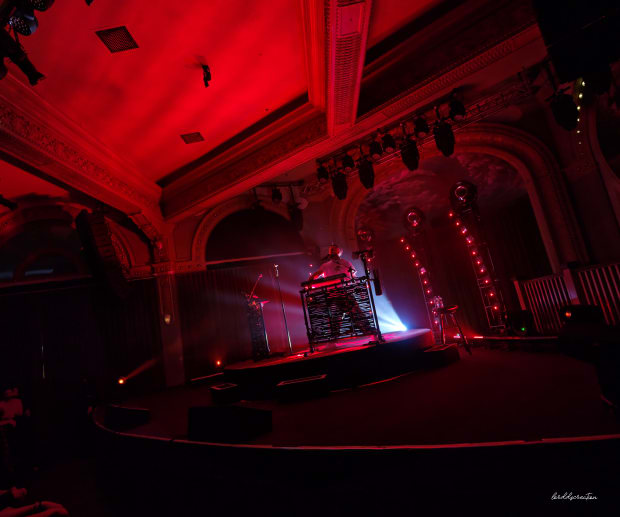 Elderbrook was supported by NASAYA and EREZ, both of whom evoked Elderbrook's gift for multi-faceted productions. Nasaya had the crowd feeling good with his groovy guitar strums accompanying songs like "Patterns" and "Tempo." EREZ—who is equally at home behind the controllers, in front of the microphone, with a guitar in hand or with keyboards underneath her fingers—was equally the delight.
Check out Elderbrook's upcoming tour dates below. You can purchase tickets here.
Elderbrook Tour Dates 2023
March 16 - Toronto, ON
March 17 - Toronto, ON
March 18 - Montreal, QB
March 22 - South Burlington, VT
March 23 - Boston, MA
March 24 - Brooklyn, NY
March 24 - New York City, NY
March 25 - Washington, DC
March 28 - Asheville, NC
March 29 - Charleston, SC
March 30 - Orlando, FL
March 31 - Miami, FL
April 1 - St. Petersburg, FL
April 5 - New Orleans, LA
April 6 - Houston, TX
April 7 - Austin, TX
April 8 - Dallas, TX
April 11 - Las Vegas, NV
April 12 - Sacramento, CA
April 13 - San Francisco, CA
April 15 - Indio, CA (Coachella Weekend One)
April 20 - Pomona, CA
April 21 to April 24 - Indio, CA (Coachella Weekend two)
April 23 - Palm Springs, CA
May 2 - Nottingham, U.K.
May 3 - Bristol, U.K.
May 4 - Birmingham, U.K.
May 5 - Manchester, U.K.
May 6 - London, U.K.
May 8 - Belfast, U.K.
May 9 - Dublin, Ireland
May 11 - Rotterdam, Netherlands
May 12 - Amsterdam, Netherlands
May 15 - Brussels, Belgium
May 16 - Paris, France
May 18 - Poznan, Poland
May 19 - Gdansk, Poland
May 20 - Warsaw, Poland
May 22 - Prague, Czech Republic
May 24 - Berlin, Germany
May 25 - Hamburg, Germany
May 26 - Frankfurt, Germany
May 27 - Lausanne, Switzerland
May 29 - Dornbirn, Austria
May 30 - Graz, Austria
May 31 - Linz, Austria
June 2 - Vienna, Austria
June 8 - Manchester, Tennessee
June 15 to June 18 - Salzburg, Austria (Electric Love Festival 2023)

FOLLOW ELDERBROOK:
Facebook: facebook.com/Elderbrookmusic
Twitter: twitter.com/_elderbrook
Instagram: instagram.com/_elderbrook
Spotify: spoti.fi/34UfzTd