Music Production for Women Nonprofit Offering Four Scholarships for New Program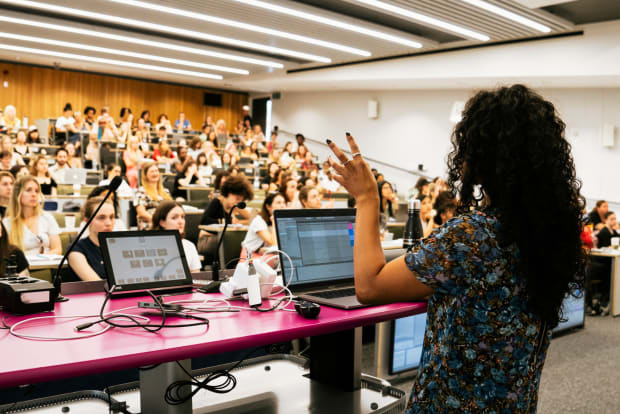 The program will allow access to weekly masterclasses in music production, mixing, marketing, sound design and more.
Music Production for Women (MPW) is offering four scholarships for females and nonbinary individuals to take part in the organization's new "Master Your Music" program.
The program will allow recipients access to weekly masterclasses in music production, mixing, marketing, sound design and more skills rooted in the music industry. 
MPW's courses will be taught by experts in their respective fields, such as audio engineers Ramera Abraham (Adele, Stormzy, Little Mix) and Lillian Frances (Sylvan Esso, Shakey Graves). In addition to the masterclasses, students will also receive monthly group mentoring sessions to focus on their personal music goals for the year ahead.
"I'm so excited about the impact that this program has had on our student's lives last year, which was the first year we launched it," said MPW's founder, Xylo Aria, in a press statement. "Most importantly, the confidence in our students, gained through the realization of producing their own music when previously it was barely within the realm of possibility, has been an absolute pleasure to witness."
Distrokid, Yamaha Music Australia and Veva Collect have backed "Master Your Music" with the hopes to give equal access and opportunities to women in music. In total, the program exceeds over $9,000 of professional courses, mentorship support and more.
The yearlong program follows the organization's two-day "Women in Music Tech" summit in October 2022. The event was free for all to attend and was livestreamed throughout over 120 countries to inspire female and nonbinary aspiring musicians to take the first steps toward achieving their music production goals.
In order to participate, students will need to supply their own laptop, headphones and have a copy of Ableton. Ableton Live Intro will be provided to each scholarship winner. Applications for the program will close at 11:59pm GMT on February 6th. For more information and to apply for a scholarship, head here.
FOLLOW MUSIC PRODUCTION FOR WOMEN:
Facebook: facebook.com/musicproductionforwomen
Twitter: twitter.com/musicprod4women
Instagram: instagram.com/musicproductionforwomen
Website: musicproductionforwomen.com